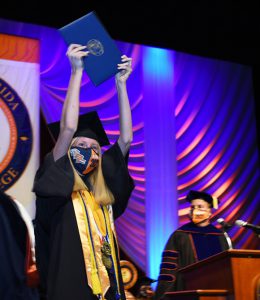 AVON PARK, Fla.  – May 12, 2021 – For South Florida State College (SFSC) graduates who gathered in the Alan Jay Wildstein Theater for the Performing Arts on Tuesday, May 11, the three 2021 Commencement ceremonies were times to celebrate, while taking precautions during the pandemic.
The number of students participating in these Commencement ceremonies totaled 229. Approximately 429 students met the SFSC requirements for spring 2021 Commencement. Of these, 29 received their Bachelor of Science in Supervision and Management (BAS-SM), four received their Bachelor of Science in Nursing (BSN), eight received their Bachelor of Science in Elementary Education (BSEE), 179 received their Associate in Arts (A.A.), 63 received their Associate in Science (A.S.), 10 received their State of Florida High School diplomas, and 138 received career certificates and college credit certificates.
Dr. Thomas C. Leitzel, SFSC president, emphasized one particular phrase when addressing the graduates: "You heard me say, 'Keep moving.' That is more than just a processional message during Commencement. I truly mean 'keep moving.' Move on to your next opportunity with confidence. Move toward your next academic credential. Move toward that next promotion at work. Move toward the opportunity to make a difference in the world. Just keep moving. And above all, never give up. Remain strong. We will get through difficult times, and we will do it together."
Early in the program, Joe Wright, chair of the SFSC Board of Trustees, addressed the graduates, expressing his joy that SFSC was able to hold its Commencement ceremonies in person compared to the previous year. "For social distancing, we have three individual ceremonies," he said. "Guest lists are limited. But, and this is the most important thing, we are here to celebrate and honor your graduation. The focus is on you, not on the challenges of the pandemic. Class of 2021, you deserve a hearty congratulations. We celebrate with you."
The mace bearer and chief marshal for this year's ceremony was Elizabeth Andrews. Marshals were Thomas Bohan, Kathleen Cappo, Jennifer Groves, Robert Hampton, Cindy Kinser, Michelle MacBeth, Ricardo Pantoja, Dr. Mintoo Patel, Andrew Polk, Tina Stetson, Joan Davies Briand, and Dr. Christopher van der Kaay.