Aug. 18, 2023 – South Florida State College (SFSC) and Who We Play For (WWPF) provided heart screenings for all student-athletes at the Highlands Campus on Friday, Aug. 18, 2023. WWPF is a non-profit that travels to communities throughout the country to eliminate preventable sudden cardiac death in the young through affordable electrocardiograms (ECGs). SFSC Nursing students and athletic coaches accompanied the WWPF staff to screen each student-athlete for heart irregularities.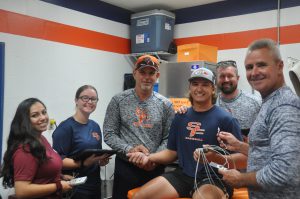 "The health and safety of our students is of the utmost importance and Who We Play For helps us to ensure that our athletes are ready to perform on the field, court, or trail," said Rick Hitt, athletic director and head baseball coach at SFSC.
WWPF was established by a group of high school students after their friend, Rafe Maccarone, went into cardiac arrest and died on the soccer field. Rafe had an undetected heart condition, Hypertrophic Cardiomyopathy, which is detectable 95% of the time by an ECG compared to 4% with a standard physical. Sudden Cardiac Arrest is the leading cause of death in schools and 1 in 300 children have an undiagnosed, detectable, life-threatening heart condition. For over 10 years WWPF has screened over 250,000 students and saved the lives of over 200 student-athletes, all who had previously undetected life-threatening heart conditions that were missed in their standard sports physical. WWPF partners with over 500 school districts, sports clubs, and national groups, as well as some of the leading experts in the world at interpreting ECGs for student-athletes.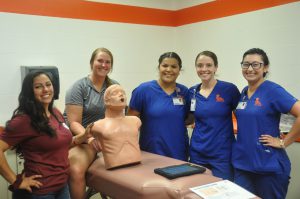 "We are honored to add South Florida State College to our growing list of partners," said Stefany Perlow, heart screening director for WWPF. "We want to thank President Fred Hawkins for not only being the biggest lifesaving legislator in the history of Florida while he was in office by making CPR required in high schools but also for his unrivaled commitment to save lives by bringing this program to SFSC. We would also like to thank Rick Hitt and all the coaches and volunteers for their support and cooperation, this would not be possible without them."
SFSC Athletics includes men's baseball and women's softball, volleyball, and cross country. Panther Volleyball begins its fall 2023 season with a home match on Thursday, Aug. 24 at 6 p.m. against Warner University in Panther Gym on SFSC's Highlands Campus. Volleyball matches are free for the public to attend. Panther Cross Country starts its season on Monday, Aug. 28 at the Daytona Beach Relay. For more information about SFSC Athletics, visit southflorida.edu/community/athletics.
For more information on WWPF, visit whoweplayfor.org.