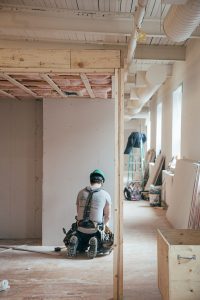 AVON PARK, Fla. – May 7, 2020 – South Florida State College's (SFSC) Corporate Education Department is offering "Introduction to Basic Construction," a course to enhance skills in residential carpentry, electricity, plumbing, and masonry. This five-hour course has been rescheduled from Friday, May 15 to be held Friday, July 10, from 8 a.m. to 1 p.m.
Students will learn how to use basic hand and power tools, how to use a tape measure, about safety, and more in the four trades. In carpentry, students will learn to build a stud wall, repair drywall, and install roof shingles. In the electrical segment, they will learn safety and types of gauge wire used in lighting and outlets in residential construction. In plumbing, they will measure, cut, and join PVC pipe. They will learn to replace a sink faucet and install a new flapper in the toilet tank. In masonry, students will discover the difference between concrete and mortar. They will also learn the importance of footers and how a footer is dug and what goes into it. Further, they will learn to mix a batch of mortar and how block walls are laid.
"This class is a prelude to construction trades classes at SFSC," said Fred Hayes, coordinator of construction trades and previously the owner of a construction company for 35 years. "The presentation of this course is an opportunity to make a massive change in people's lives. The construction trades are always busy. And this introductory class will provide a preview of what the four trade classes are all about. In five hours, the students will get a taste of what the different areas of construction do. Training and knowledge can never be taken away from you."
To register for this class, call 865-863-784-7405. For more information, call 863-201-7195 or email corporatetraining@southflorida.edu. The course number is CRN 30736. The cost of the course is $130. SFSC's Corporate Education Department also offers in-depth, eight-week training courses that could lead to employment.