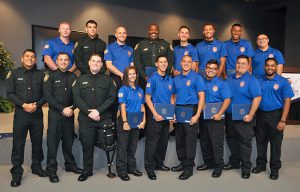 AVON PARK, Fla. – June 14, 2019 – Sixteen graduates of South Florida State College's (SFSC) Basic Law Enforcement (BLE) Academy Class 258 and one graduate of the Crossover Academy Class 355 were recognized at a ceremony on Wednesday, June 12 in the SFSC University Center Auditorium on the College's Highlands Campus in Avon Park.
BLE Class 258 graduates who received occupational certificates were Estevan Carranza, Angel Chacon, Alexander C. Cotto, Nicolas R. Davis, Julia Franchetti, Tyler J. Gilliard, Jorge L. Godinez, Drew M. Haley, Dominic T. Hutchins, Darious L. Johnson, Jose A. Juarez, Mark A. Lanning, James D. Lethbridge, Zakir Malik, Jashaun D. Walden, and Justin R. White, and the Crossover Class 355 graduate receiving his occupational certificate was John P. Gadson.
Major Brandon Ball of the Florida State Fire Marshal's Office and a faculty member at SFSC since 2002 was guest speaker at the graduation. He offered the new law enforcement officers advice about their careers going forward. "Make sure that you thank those who have helped you to this point in your training," he said. "Your core system at home is going to continue to be a valuable part of your well-being. Aim high, stay focused, stay humble, stay dedicated, maintain high ethical standards, and focus on doing the right thing. Remember that your actions are a reflection on all of us. And, give something back. No definition of a successful life can do anything but include serving others. I applaud you for taking up the challenge to help serve the communities in which we live."
During the ceremony, special awards were presented to the cadets: Tyler Gilliard for top academics and Jose Juarez for top firearms scores. Jorge Godinez was given special recognition as class leader.
SFSC's Basic Law Enforcement occupational certificate program trains students to become law enforcement officers in Florida. By successfully completing the program, they are eligible to take the State Officer Certification Examination (SOCE) to become certified law enforcement officers. The program runs 770 contact hours or approximately five months full time or approximately 10 months part time.
The Correction to Law Enforcement (Crossover) occupational certificate program trains currently employed corrections officers to become law enforcement officers in Florida. Upon successful completion of the program, graduates are eligible to take the SOCE to become certified law enforcement officers. The program runs 515 contact hours or approximately 10 months part time.
For more information about either of these programs, visit southflorida.edu or call SFSC's Criminal Justice Academy at 863-784-7285.