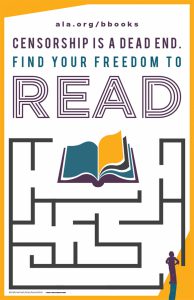 What do the Harry Potter books, "The Handmaid's Tale" and "And Tango Makes Three" have in common? At some point, each one has been challenged or banned in libraries or schools. Banned Books Week, an annual celebration sponsored by the American Library Association (ALA), helps raise awareness of efforts to ban books and highlights our freedom to read. This year's theme is "Censorship is a dead end. Find your freedom to READ."
The SFSC Library on the Highlands Campus hosts a weeklong celebration of Banned Books Week, from Monday, Sept. 28 through Friday, Oct. 2, featuring displays, activities, and banned books for checkout. Check out the Library's Facebook page for daily postings.
Since its inception in 1982, Banned Books Week reminds us that while not every book is intended for every reader, each of us has the right to decide for ourselves what to read, listen to, or view. South Florida State College Library and thousands of colleges, schools, libraries, and bookstores across the country will celebrate the freedom to read by participating in special events and exhibits that showcase books that have been banned, threatened, or burned.
Since 1990, the ALA's Office for Intellectual Freedom (OIF) has recorded more than 10,000 book challenges, including 377 in 2019. This year's 10 most challenged books include titles challenged for LGBTQIA+ themes, profanity, mentions of sexual activities and conflicting religious viewpoints. The most challenged or restricted reading materials have been books for children. Even if the motivation to ban or challenge a book is well intentioned, censorship denies the freedom to individuals to choose and think for themselves.
The list also notes that several of the titles were burned in an effort to stifle the American public's right to read freely. Thanks to the commitment of librarians, teachers, parents, and students, most challenges are unsuccessful, and reading materials like "I Know Why the Caged Bird Sings," "Slaughterhouse Five," the Harry Potter series, and the Hunger Games series remain available. 
Library hours are Monday through Thursday, 7:30 a.m. to 6 p.m., and Friday, 7:30 a.m. to 5 p.m. For more information about SFSC Library's celebration, contact Lena Phelps, SFSC chair of library services, at PhelpsL@southflorida.edu or ext. 7303.