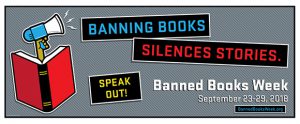 What do the Harry Potter books, "To Kill a Mocking Bird," and "Thirteen Reasons Why" have in common? At some point, each one has been challenged or banned in libraries or schools. Banned Books Week, an annual celebration sponsored by the American Library Association, helps raise awareness of efforts to ban books and highlights our freedom to read. The South Florida State College (SFSC) Library celebrates Banned Books Week Monday, Sept. 24–Friday, Sept. 28.
Since its inception in 1982, Banned Books Week has reminded us that while not every book is intended for every reader, each of us has the right to decide for ourselves what to read, listen to or view. SFSC Library and thousands of colleges, schools, libraries and bookstores across the country will celebrate the freedom to read by participating in special events, exhibits, and read-outs that showcase books that have been banned or threatened. The SFSC Library hosts a week-long celebration featuring displays, activities, and banned book mystery dating. The Banned Book Mystery Dating allows anyone to check out an unknown book in a plain brown wrapper for a surprising read. Through a partnership with the Heartland Library Cooperative, public library card holders in good standing may check out SFSC Library books year round.
Thanks to the commitment of librarians, teachers, parents, and students, most challenges are unsuccessful, and reading materials like "I Know Why the Caged Bird Sings," "Slaughterhouse Five," the Harry Potter series, and the Hunger Games series remain available. 
The most challenged and/or restricted reading materials have been books for children. However, challenges are not simply an expression of a point of view; on the contrary, they are an attempt to remove materials from public use, thereby restricting the access of others. Even if the motivation to ban or challenge a book is well intentioned, the outcome is detrimental. Censorship denies our freedom as individuals to choose and think for ourselves. For children, decisions about what books to read should be made by the people who know them best—their parents.
Since 1990, the American Library Association's (ALA) Office for Intellectual Freedom (OIF) has recorded more than 10,000 book challenges, including 354 in 2017. A challenge is a formal, written complaint requesting a book be removed from library shelves or school curriculum. About half of all challenges are to material in schools or school libraries, and one in four are to material in public libraries. OIF estimates that less than one quarter of challenges are reported and recorded.
The SFSC Library is located on the Highlands Campus, in Building Y, 600 W. College Dr., Avon Park, and is open Monday through Thursday, 7:30 a.m.–9 p.m., and on Friday, 7:30 a.m.–5 p.m. For more information, visit southflorida.edu/library or contact Claire Miller, SFSC librarian, at MillerC@southflorida.edu or 863-784-7305.