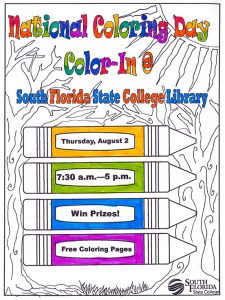 For the second year in a row, the SFSC Library will join the celebration of National Coloring Book Day with a color-in, featuring a day-long coloring party, free coloring pages, and a drawing to win one of several coloring-themed prize packs.
While the library offers coloring pages and supplies to students and community members throughout the year, the 2018 celebration focuses on both the creative and social aspects of coloring.
"Every year, we have families, individuals, and coloring groups sharing time and creativity in our space," said Claire A. Miller, SFSC librarian. "The encouragement, creativity, and fun are my favorite part of the event." In fact, Miller has designed a custom coloring page promoting the Aug. 2 celebration. The coloring page can be downloaded from the SFSC Library Facebook page, @SFSCLibrary, or HERE.
The Color-In will take place on Thursday, Aug. 2, 7:30 a.m. – 5 p.m., at the SFSC Library, which is located on the second floor of Building Y on the Highlands Campus in Avon Park.
For more information about the National Coloring Book Day Color-In, contact Miller at 863-784-7305 or at millerc@southflorida.edu.