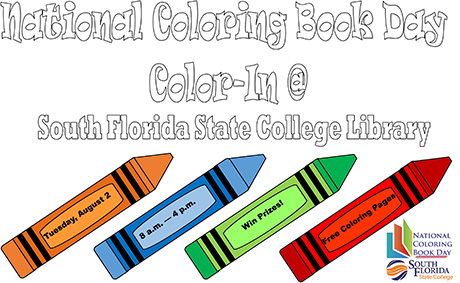 AVON PARK, Fla. – July 20, 2022 – The South Florida State College (SFSC) Library on the Highlands Campus is excited to bring back the celebration of National Coloring Book Day with a Color-In, featuring a daylong coloring party, free coloring pages, and two door prize drawings.
While the Library offers coloring pages and supplies to students and community members throughout the year, this annual event celebrates the fun and mental health benefits that creativity and social interaction bring. Modern times leave few options to de-stress in community-building activities. Coloring ensures that "drawing skill" levels do not limit or exclude anyone.
The Color-In will be held Tuesday, Aug. 2, from 8 a.m. to 4 p.m., on the second floor of the SFSC Library (Building Y) on the Highlands Campus in Avon Park. Take Entrance 3 or 4 off of College Drive to the Library parking lot.
For more information, contact the SFSC Library Circulation Desk at 863-784-7306 or email: sfsc-library@southflorida.edu.