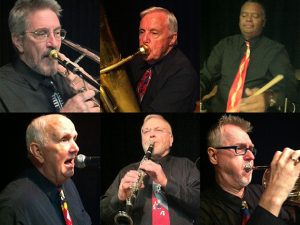 AVON PARK, Fla. – Dec. 12, 2018 – SFSC Performing Arts presents a five-show series of traditional jazz from January to April in the 250-seat SFSC University Center on the Highlands Campus in Avon Park.
The Jazz Series began in 2004 and continues to feature traditional, Dixieland and swing jazz. "There is no other place in Highlands County where a person can hear world-class jazz music," said Cindy Garren, director of cultural programs at SFSC. "This is the traditional jazz of Louis Armstrong, Benny Goodman, Artie Shaw and Frank Sinatra, in an intimate setting."
Direct from Atlanta, the Hotlanta Dixieland Jazz Band is the traditional sextet: clarinet, cornet, trombone, banjo/vocals, tuba and drums. Founded in 1990 by Don Erdman, the group has performed extensively throughout the South including appearances at "The Famous Door" on Bourdon Street in New Orleans, the Piccolo Spoleto Festival in Charleston, the Brevard College Jazz Festival and jazz festivals in Spain, Germany, France, Japan, Saudi Arabia, Singapore and Finland. Expect to hear music by Jelly Roll Morton, Hoagy Carmichael, Fats Waller and Louie Armstrong.
Steve Dollar in The Atlanta Journal/Constitution said, "Jazz fans are passionate over Hotlanta Dixieland Jazz when they show off their revved-up renditions of everything from prewar New Orleans chestnuts to postwar Duke Ellington standards."
Jazz series performances include:
Friday, Jan. 11 at 7 p.m. – Hotlanta Dixieland Jazz Band is funded in part by a grant from South Arts in partnership with the National Endowment for the Arts and State of Florida, Division of Cultural Affairs. Tickets are $29.
Friday, Jan. 15 at 7 p.m. – The Eddie Metz Trio, an annual favorite at SFSC, features Rossano Sportiello on piano and Nikki Parrot on bass and vocals in an evening of jazz standards. "Eddie always brings down the house," said Patricia McShane, one of the sponsors of the jazz series at SFSC. "He's played with Chick Corea, Arturo Sandoval, the Woody Herman Orchestra, Dick Hyman, Bucky Pizzarelli and the Count Basie Orchestra." Tickets are $29.
Friday, March 1 at 7 p.m. – The Lew Del Gatto Quintet, featuring trumpeter Dan Miller, performs with saxophonist Del Gatto who was a member of the Saturday Night Live Band in New York City for 24 years and he performed all the baritone sax solos in the original Blues Brothers film starring Dan Aykroyd and Jim Belushi. Tickets are $26.
Thursday, March 28 at 7 p.m. – The passionate and soulful vocalist, Nicole Henry, will perform contemporary standards, blues and classic jazz. Henry was awarded a Soul Train Award for "Best Traditional Jazz Performance" and she's had three Top 10 U.S. Billboard jazz albums. Tickets are $32.
Thursday, April 4 at 7 p.m. – Michigan jazz fixtures, Terry Lower and Edye Evans Hyde, who was named Michigan Jazz Vocalist of the Year, perform straight ahead jazz. Inspired by Oscar Peterson and Art Tatum, Terry Lower is a fun and exciting jazz pianist who always add his own twist. Tickets are $27.
Jazz Series subscriptions are available now for only $115 per person – a savings of $28. Jazz subscribers also save 15 percent on any SFSC Performing Arts presentation including Artist, Matinee and Trending Now performances. Additional benefits include: invitations to exclusive events, a 10 percent dining discount at the Hotel Jacaranda and reduced ticket prices for select events.
High school and college students with a current, valid student ID get a free ticket to jazz performances. Student tickets are available the night of the show at the SFSC University Center box office. Student ID must be presented. Groups of 12 or more can save up to 50 percent and the group organizer receives a free ticket.  
The SFSC Jazz Series is sponsored by Lake Placid Health & Rehabilitation; Patricia McShane; Dr. Norman and Laurie Stephens; Bill Browning; Lynne Josselyn and Larry Conrad; Peter and Dale Caldwell; and Elaine Becker and Bill Schroder.
The SFSC Box Office, which is located on the Highlands Campus in Avon Park at 600 West College Drive, is open Monday through Friday, 11:30 a.m. – 2:30 p.m. Tickets and videos of upcoming productions are available online at SFSCarts.org. Telephone orders can be placed by calling 863-784-7178.