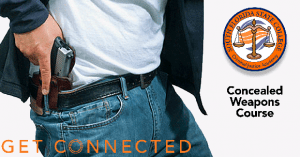 AVON PARK, Fla. – Sept. 19, 2019 – The South Florida State College (SFSC) Criminal Justice Academy (CJA) is offering Live-Range Training for Concealed Weapons Holders. This course provides training to anyone who already has a valid concealed weapons permit. Instruction will include basic weapons handling, marksmanship, live-fire exercises, and care and cleaning of a handgun. Authorized weapons include revolvers or semi-automatic handguns in calibers .22, .25, 32, 380, 9 mm, 38, 357, 40, 45, and 44. Handguns chambered in rifle calibers or fully automatic weapons will not be allowed.
The course is offered Saturday, Oct. 12, 9 a.m. – 1 p.m., at the SFSC Criminal Justice Academy Firearms Range, 12700 Arbuckle Creek Road, Sebring. Anyone interested in taking this course must bring their concealed weapons permit, a handgun, and 50 rounds of factory ammunition, all other materials will be supplied. The cost is $55 and the course number (CRN) is 11244. Pre-registration is required. 
For information, equipment list, and maps to the range, contact Michael Huften, coordinator, at 863-784-7285. Register at any SFSC campus or center in DeSoto, Hardee, or Highlands counties.