AVON PARK, Fla.–Sept. 3, 2015–The Museum of Florida Art and Culture at South Florida State College is looking for volunteer docents.
If you have an interest in Florida history, art, or archeology, then MOFAC invites you to attend a luncheon that will introduce volunteers to the role docents play at MOFAC and how they can contribute their time.
The luncheon is Friday,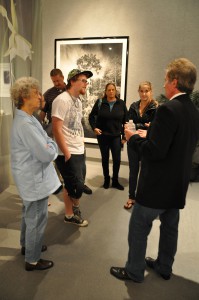 Sept. 18, 11:30 a.m. – 12:30 p.m., in the lobby of the SFSC Theatre for the Performing Arts on the college's Highlands Campus.
A docent serves as a guide to visitors, helping them understand and better appreciate the art and items on exhibit.
"Our docents provide an interesting, entertaining, and educational aspect to the viewing experience," said Mollie Doctrow, MOFAC's curator. "They are an integral part of MOFAC and we rely on them to enrich our visitors' interaction with the collection."
Docents need not have in depth knowledge of MOFAC's collection. The museum will orient docents on the collection and provide training workshops.
Docents typically volunteer one hour or more a week during regular museum hours.
MOFAC is a cultural program of South Florida State College.
Those who have volunteered as MOFAC docents in prior years are also invited to the luncheon.
RSVP to MOFAC's curator, Mollie Doctrow, by email at doctrowm@southflorida.edu or call her at 863-784-7240.