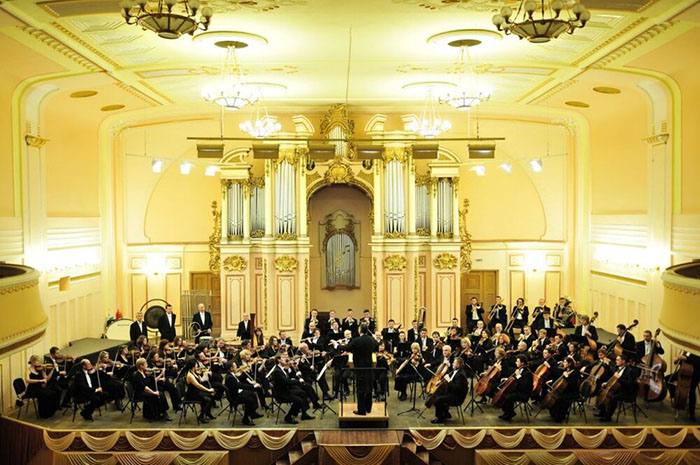 AVON PARK, Fla. – Jan. 11, 2023 – Founded in 1902, the Lviv National Philharmonic Orchestra of Ukraine is one of its nation's largest and most internationally known ensembles. South Florida State College (SFSC) in Avon Park is honored to host the Orchestra at the 1,460 seat Alan Jay Wildstein Center for the Performing Arts on Thursday, Jan. 19 at 7 p.m.
"This concert and the Orchestra's American tour is a testament to the power of music to overcome adversity," said Cindy Garren, director of cultural programs at SFSC.
The Lviv National Philharmonic Orchestra of Ukraine was established in the medieval city of Lviv in 1902. The Orchestra has toured extensively around the world to countries including Poland, Spain, France, Switzerland, Germany, and The People's Republic of China.  During the past several seasons, they have completed highly acclaimed recordings for major international labels including Naxos, Toccata Classics, and Brilliant Classics.
The multiple award-winning conductor, Theodore Kuchar, is the most recorded conductor of his generation. Stanislav Khristenko, who has been called a "poet of piano," is the featured soloist, performing Chamber Symphony No. 3 for flute and string orchestra. The Chamber Symphony No. 3 was composed by the contemporary Ukrainian composer, Yevhen Stankovich.
The program will include Beethoven's Symphony No. 7 in A major, Opus 92. This symphony was completed in 1812, the year in which Napoleon was beginning to fail in his conquests. Celebrating this turn of events, the Seventh Symphony premiered at a concert in Vienna on Dec. 8, 1813 to benefit troops wounded in the Battle of Hanau, a small but tactical victory on Oct. 31, 1813, which routed Napoleon into a retreat in the War of the Sixth Coalition.
During the tour, the Lviv Orchestra of Ukraine will appear at Carnegie Hall, the Kennedy Center for the Arts in Washington, D.C., and 38 cities throughout the United States.
"I am proud that South Florida State College is presenting these remarkable musicians," Garren said. "Orchestra members needed special permission to leave their country during this war-torn time. I am asking all music lovers to show their support for these artists and their country."
Tickets are $45, $35, and $25. Groups of 12 or more can save 25% on admission. Tickets can be purchased online at sfscARTS.org or by calling the SFSC Box Office at 863-784-7178 which is open Monday through Friday, 11:30 a.m. – 2:30 p.m. This performance is sponsored by Jane Hancock and Don Applequist, and Marcia Ward. The Alan Jay Wildstein Center for the Performing Arts is located on the SFSC Highlands Campus at 600 West College Drive in Avon Park.