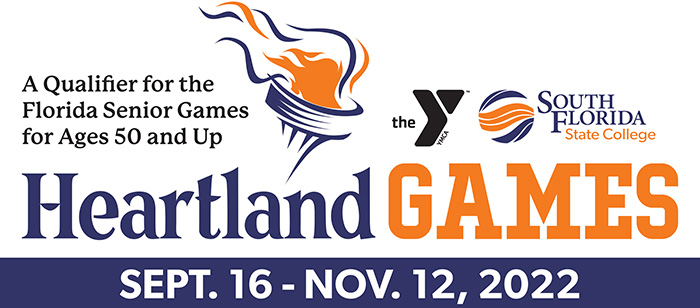 AVON PARK, Fla. – Aug. 2, 2022 – For over 25 years, residents of Florida's Heartland have been invited to maintain a healthy lifestyle by participating in the Heartland Games through South Florida State College (SFSC). This year, SFSC's Corporate and Community Education Department coordinates the Heartland Games in conjunction with the Highlands County Family YMCA for the first time. The Heartland Games begin on Sept. 16 and run through Nov. 12 and will be held at various venues in Sebring.
"The YMCA is known for hosting athletic events and SFSC knows education," said Tina Gottus, SFSC corporate and community education director. "We believe combining expertise and knowledge will elevate the games so that it is sustainable for years to come. We are excited to bring back the games under this new partnership and leadership."
The Heartland Games are open to men and women 50 years and older to compete against others of the same gender and age group. The Heartland Games are sanctioned by the Florida Sports Foundation and serve as a qualifying event for the Florida Senior Games for residents of DeSoto, Hardee, Highlands, and surrounding counties. The Heartland Games promote physical fitness, good health, and a competitive spirit among seniors who live active lifestyles and inspires those who may not.
This fall, athletes can participate in cycling (road race and time trial), tennis (singles, doubles, and mixed doubles), swimming, a 5K run and walk, pickleball (doubles and mixed doubles), golf, euchre, pinochle, Mahjong, and bridge.

The complete schedule, registration forms, and payment information for the Heartland Games is available at bit.ly/heartlandgames2022. Click "Programs" on upper right side of page. For further information, call 863-382-9622 or email michaelb@highlandsymca.org.