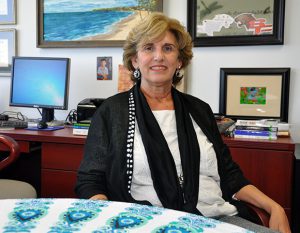 AVON PARK, Fla. – Nov. 20, 2019 – Kathleen Cappo, a South Florida State College (SFSC) Nursing professor, has become certified in nurse coaching through the International Nurse Coach Association.
"Nurse coaching is a new approach to practice for medical professionals," Cappo said. "It meets the needs of society in new ways—it's not a quick fix for a medical need. This is a way to nurse the whole person and comes out of the American Holistic Nurses Association (AHNA) values."
Approximately 250 nurse coaches have been nationally certified in the United States. The American Holistic Nurses Credentialing Corporation (AHNCC), which works with the AHNA, provides the only nationally accredited holistic nurse and nurse coach certification credentials in the United States. Before embarking on studies in nurse coaching, nurses are required to have several years of nursing education and experience as a foundation to developing their coaching skills.
Cappo heard about the nurse coaching program while working toward her doctoral degree in Nursing Education through Florida Atlantic University. Her professor was involved in a study in which she was focusing on the caregiver and how they could recognize the difference between delirium and dementia. The professor was using coaching as an intervention and assistance when working with the caregivers who might be experiencing burnout. Cappo saw that the caregivers were able to make positive changes in their own lives.
With financial assistance from an SFSC Foundation Innovation Grant, Cappo was able to begin the program and join a cohort of students in Boston last May. The SFSC Foundation offers Innovation Grants to support self-contained projects that make an innovative contribution to SFSC by improving the quality of the teaching and learning process. All SFSC employees are eligible to apply for an Innovation Grant.
Cappo's training consisted of 120 hours—30 hours of intensive training in May and 30 in October. Her final 60 hours were engaged with clients.
During the final 60 hours of the program, she chose her peers—SFSC nursing faculty—as her clients. "I had four one-hour, one-on-one sessions with each of my clients," she said. Cappo asked them to complete the Integrative Health and Wellness Assessment, a 36-item tool that considers the whole person and eight dimensions of health—life balance and satisfaction, relationships, spirituality, mental, emotional, physical (nutrition, exercise, weight management), environmental, and health responsibility.
"Nurse coaching helps the client or patient with self-discovery, so I don't tell them what to do," Cappo said. The assessment tool uses a scoring system, so a client can see where they need help in certain areas, such as diet, weight, nutrition, sleep, or anything in their life they want to work on. The client, then, picks one or more areas that they'd like to work on.
"Through the skills of nurse coaching, you use techniques where the client has a self-awareness, self-motivation (internal and external), and self-development. The coach and client build a trusting relationship where they set smart goals for the client. There is no judgment. When coaching SFSC Nursing faculty, we'd meet on a weekly basis and set goals each week. Patients or clients look at themselves and decide what they really need to change. It's not somebody else telling them what to do. So through motivational interviewing and appreciative inquiry, there's a lot of positive talk. The person is built up and not built down to make things happen, so it's pretty effective."
Cappo would like to use nurse coaching with SFSC Nursing students. "Nursing students are so stressed—it's competitive to get into the program and, when in the program, they have a lot of content to cover in a short period of time. And it doesn't end when they become a nurse. Nurses work 12-hour shifts, many times without breaks because they may be afraid something is going to happen to their patients. They're dealing with people who are at their most vulnerable and there can be a lot of sadness. So they have to find ways to care for themselves and not be depressed and not get burnout."
Cappo has already started introducing nurse coaching into SFSC's Nursing Education curriculum. It's used in the Associate Degree in Nursing program. "All our curriculum supports the holistic views, so we want to become a certified holistic program," she said. "Nurse coaching is another track that I would expose the students to, such as becoming an emergency critical care nurse or becoming an obstetrical nurse."
SFSC currently offers an online Bachelor of Science in Nursing program, a two-year generic associate in nursing degree program, a one-year transition licensed practical nurse to registered nurse program, and an 11-month practical nursing occupational certificate. For more information about these programs, call 863-784-7131 or visit southflorida.edu.