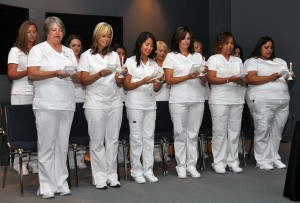 AVON PARK, Fla.– May 5, 2015–Twelve graduates of South Florida State College's nursing program were honored in a traditional pinning ceremony recently in the SFSC University Center Auditorium, Highlands Campus. The students are graduates of the college's one-year Transition-Licensed Practical Nursing (LPN) to Registered Nursing (RN) program. 
The graduates are Cheryl Baker, Danielle Boyle, Charmaine Cruz, Janna English, Leticia Garcia, Lisa Garduno, Jacquelyn Graziani, Chelsea Longabaugh, Dominica Lozano, Grace Race, Michelle Taylor, and Ana Torres. 
Guest speaker, Adam Kless, chief nursing executive at Highlands Regional Medical Center, addressed the students: "I want to impress upon you, tonight, the sacredness of the relationships you are entrusted with as healer and caregiver. You greet new life as it enters the world, and you have the privilege of saying the final farewell as life passes on. In a while, you will light a lamp to symbolize your oath and duty as a nurse. The light of that lamp is for the lives you are entrusted with, for the people that will depend on you, for those that need your comfort and care." 
Dr. Michele Heston, director of SFSC's nursing program, spoke of change. "We thank [the students] for having the courage to change, to accept more responsibility in their chosen discipline. We also challenge them that as they face new career challenges, they always carry with them that courage to be positive agents for change, exhibiting competence and compassion in every nursing encounter." 
During the ceremony, graduates accepted their nursing pins from a person of their choice, in most cases a relative or friend whom they credited with being supportive throughout their lives.  To honor Dr. Leana Revell, the students presented her with a special nursing pin of her own. Dr. Revell is not only the SFSC vice president for academic affairs and student services, but she is an RN as well. She retires from SFSC in June 2015. 
The nursing graduates awarded Gloria "GiGi" Reschke, an emergency room RN at Florida Hospital in Wauchula, with the 2015 Golden Duck. The award is presented to a group or individual who contributes to the learning experience of the students and has gone above and beyond to educate and accommodate members of the class. The award's significance is based on the D.U.C.K. motto: Developing, Understanding, Compassion, and Knowledge.
The practice of pinning new graduates has been a nursing school tradition in the United States since 1916. The pin is worn prominently on a nurse's uniform throughout her or his career. One story of the ceremony's beginning goes back to 1883, when Queen Victoria awarded Florence Nightingale the Royal Red Cross on St. George's Day for her service to the sick and injured during the Crimean War. In turn, Nightingale later extended the honor to her outstanding nursing students by presenting them with a medal of excellence. 
Graduates of the nursing program become registered nurses by passing the National Council Licensure Examination for Registered Nurses (NCLEX) exam. SFSC nursing graduates are usually fully employed in nursing within a few months of graduation. Positions that some of SFSC's nursing graduates hold are director of a wound care center, charge nurse at a medical-surgical diabetic center, director of nursing in a 130-bed skilled nursing facility, operating room nurse, charge nurse for a progressive care unit, hospice nurse, school nurse, clinical supervisor in home health care, and emergency room nurse manager. 
SFSC offers Associate Degree Nursing (ADN) options for students interested in becoming registered nurses: a two-year Generic-RN program and a one-year Transition-LPN to RN program. The college also offers a one-year practical nursing occupational certificate program. For program entry requirements, consult the current SFSC College Catalog.