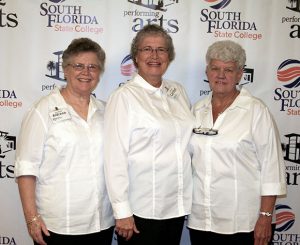 AVON PARK, Fla. – June 27, 2019 – If you love music, dance, and theater performances, please consider joining the volunteer guild at the 1,460-seat Alan Jay Wildstein Center for the Performing Arts and the 250-seat University Center at South Florida State College (SFSC).
"Volunteering is fun and you get to see what happens behind the scenes," said Cindy Garren, director of cultural programs at SFSC.
Volunteer positions include ticket takers, greeters, ushers, concession attendants, hospitality assistants and show runners. Show runners are responsible for running errands for the visiting production company.  "A show runner might be asked to take the company manager to a bank or take a performer to buy a pair of shoes," explained Garren. "Once the show runner was asked to buy underwear for one of the performers."
In addition to the mainstage performances, volunteers also assist at rental events such as dance recitals, commencement ceremonies, community meetings, and performances by groups such as the Highlands County Concert Band and the Highlands County Community Chorus. Volunteers must be willing to help for a variety of events from November to June and must have email.
Volunteers are required to submit an application and all volunteers must participate in training. "It's not difficult work," added Garren, "But customer service and assisting our patrons in a friendly and professional manner, is important."
Interested individuals can apply online at sfscarts.org/support-us/volunteer or email culturalperformances@southflorida.edu. For more information, contact Mitzi Farmer, volunteer coordinator, at 864-784-7284.