AVON PARK, Fla. – Aug. 6, 2020 – South Florida State College (SFSC) graduated 25 Practical Nursing (PN) program students in a traditional pinning ceremony on Thursday, July 30 in the Alan J. Wildstein Center for the Performing Arts at SFSC on the Highlands Campus in Avon Park. During this year's ceremony, graduates, faculty, and members of the audience paid heed to the COVID-19 pandemic by donning masks and maintaining social distancing.
The graduates are Musa Najeh Abuelouf, Rigenst Alfred, Erica Alonso, Maimuna Bojang, Cassandra Byler, Mayra Cardenas, Khalaya Clarke, Rebeca Marie Cortez, Amy Davila, Jackeline DeLa Cruz, Uriel Estrada, Mayra Eugenio-Badillo, Maria I. Gonzalez, Britanya Graham, Laura Holden, Kaylon Johnson, Amy Knighton, Rebecca Lieder, Megan McCullough, Betsabet Montoya, David Rubinos, Noemi Secundino, Amber Shoemaker, Cassandra Sullivan, and Crystal Valadez.
Class president, Cassandra Sullivan, presented her farewell address to her fellow classmates: "Many words describe a nurse. But the one word that stands out to me is, 'adaptable.' We learn early in nursing school to be adaptable. Nursing students make many sacrifices. Nursing school is not for the weak. Say goodbye to your family and social life. We spend hours studying and fall asleep studying, just to wake up to study again. Sleep, eat, study, repeat. There is information overload, and we must learn it all in 11 months. We have given 'adaptable' a whole new meaning. I believe that this is a skill that we have all conquered and will use for the rest of our careers."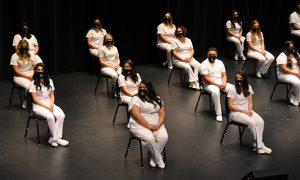 Sullivan recounted the challenges of nursing school during the pandemic. "We have Zoomed and recorded head to toe assessments that took 23 hours to upload. We did group work over the internet with practically dial-up speeds. Losing internet connection during a test or waking up to no internet connection made it challenging to complete assignments."
"We have given 'adaptable' a whole new meaning," Sullivan said. "We will always be remembered as the practical nursing class that survived quarantine."
Each year, PN graduates award the Golden Duck to someone who has served as a mentor to the students in the program. The D.U.C.K. acronym represents the foundational elements of the mentoring arrangement: Developing, Understanding, Compassion, and Knowledge.
During the ceremony, class secretary Noemi Secundino presented the 2020 Golden Duck Award to Patti Cardin, SFSC Nursing instructor. "[She] faced many challenges during her first year as an instructor, including the change to online teaching halfway through the year. She has consistently devoted her time to support and encourage us. She has not only been an amazing instructor but someone who was always willing to lend a listening ear. We adore, admire, and respect her greatly. She has had all the patience in the world to make sure our questions were always answered even after long, eight-hour days."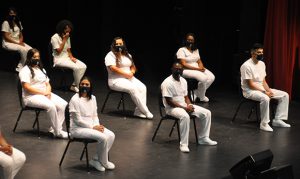 The practice of pinning new graduates has been a nursing school tradition in the United States since 1916 and, symbolically, welcomes each graduate into the nursing profession. The pin is worn prominently on a nurse's uniform throughout her or his career. One story of the ceremony's beginning goes back to 1883, when Queen Victoria awarded Florence Nightingale the Royal Red Cross on St. George's Day for her service to the sick and injured during the Crimean War. In turn, Nightingale later extended the honor to her outstanding nursing students by presenting them with a medal of excellence.
Graduates of the 11-month occupational certificate PN program become licensed practical nurses by passing the National Council Licensure Examination for Registered Nurses (NCLEX-PN) exam. SFSC nursing graduates are usually fully employed in nursing within a few months of graduation.
SFSC offers an Associate in Science degree in Nursing (AS) program for students interested in becoming registered nurses: a two-year Generic-RN program and a one-year Transition-LPN to RN program. The College also offers a Bachelor of Science in Nursing (BSN) program. For program entry requirements, consult the SFSC College Catalog online at southflorida.edu, call 863-784-7225, or email healthsciences@southflorida.edu.