AVON PARK, Fla. – June 23, 2016 – How did an artist who discovered a love for nature in the cool air of the High Sierra settle in flat, hot, humid Florida, and come to love her new home?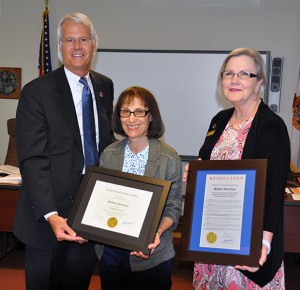 The answers lies in the story of how Mollie Doctrow came to be a landscape artist and curator of the Museum of Florida Art and Culture (MOFAC) at South Florida State College (SFSC).
Doctrow, who has served as MOFAC's curator for 11 years, will retire at month's end to tend to her love: capturing Florida's landscapes in her art. A love that has its beginnings in a trip to the mountains.
"I was 16 years old when I first went to the High Sierra as camp counselor," Doctrow said. "I remember saying to myself 'Holy cow this is nature,'" as she recalled the camping trip that included a week backpacking along the John Muir Trail.
Doctrow described her experience in the northern California mountains as a moment akin to an epiphany, saying she was never the same again.
The two weeks in the mountains were not Doctrow's first exposure to beauty. "My family moved to France for a year when I was in the ninth grade," said Doctrow, who grew up in the uninspiring sprawl she called "greater Los Angeles."
"We lived in Bois-le-Roi, a farming village outside Paris, where I was captivated by the splendor of the rural charm."
Doctrow recalled how she marveled at the simplicity of village life that left her parents befuddled. "My mother was used to supermarkets, not the open air markets of the village," Doctrow explained. "So she would send me shopping for the meat, and I loved it—so much so that I wanted my family to leave me there."
It was a year later that Doctrow would visit the High Sierra, saying that she felt half alive until then. "Both experiences—France and the mountains— are still vivid in my mind. I was never the same after that," she said.
Doctrow's love of the outdoors had not yet found an expression in art. She enrolled at the University of California at Northridge to study philosophy. "I went to college overwhelmed by questions like 'What is goodness?'" Doctrow said. "It took me four years to find out nobody had the answer."
While Doctrow concentrated on the meaning of goodness, she dabbled in art by taking drawing classes as she worked toward her bachelor's degree. "I didn't see a path ahead for me as an artist," she said. "I didn't even know what an art career was at the time."
After graduation from Northridge, Doctrow returned to Europe for nearly a year. Her second trip abroad jolted her into rethinking her career path. "When I came back home, I went to Santa Monica City College, which is a community college, to study printmaking and drawing," she said.
"I lived in the printmaking studio," said Doctrow, describing how she took to her new passion. "I started making and selling my prints, and couldn't stop."
After a year at Santa Monica, Doctrow returned to Northridge to enroll in its master's degree program in printmaking. "They told me they would accept me on the condition that I not do flowers," Doctrow said. "I agreed, finished the program, and went right back to doing flowers, landscapes, and realisms of nature."
Next came freelance work in computer graphics and a string of adjunct teaching positions. Doctrow landed her first full-time teaching job at Brevard College, located in a mountainous region of western North Carolina, where she taught art and computer graphics for 10 years.
Toward the end of her time at Brevard, Doctrow drove to central Florida to visit a friend who owned a ranch. "By that time, I was well into doing prints of natural habitats but had not experienced the landscapes of southern Florida," Doctrow said. "I took a trip to the Everglades, and my eyes popped out because I had never seen anything like that before."
Doctrow was hooked. She immediately sought out an opportunity to return and scored a summer residency through the national parks. After an intense period of drawing landscapes and rendering them to prints, Doctrow went hunting for place to exhibit them.
An Internet search turned up a venue: the Museum of Florida Art and Culture at SFSC. Doctrow called the curator, Jim Fitch, and the two hit it off immediately.
"I visited the SFSC Highlands Campus to meet Jim at MOFAC," Doctrow said. "I found a museum with empty shelves but I also found a man who loved art and was eager to show my work."
Fitch invited Doctrow back for a semester of teaching, which Doctrow immediately accepted. "Then Jim retired, and I seized the opportunity to come on full time."
SFSC offered the curator post to Doctrow. "I would never have expected I would live in place without mountains, an area as flat, hot, and humid as Florida," Doctrow said. "But I've come love this area of Florida, and MOFAC and SFSC, all of which have come to mean so much to me."
During Doctrow's tenure at MOFAC, the museum collection expanded and its stature as a regional venue of Florida art and culture grew. Doctrow earned a reputation for mounting cutting-edge exhibitions of major Florida artists.
"Without a doubt, Mollie's curatorial expertise put MOFAC on the map of top-notch museums in Florida," said Cindy Garren, director of Cultural Program at SFSC. "Mollie's tenure at SFSC has raised the bar when it comes to judging the quality of an exhibition at a regional museum in the state."
Doctrow not only cared for MOFAC's collection, she taught graphics classes to SFSC's students. Collaborating with Cathy Futral, a professor in the art department, Doctrow mounted a series of exhibitions showcasing the work of SFSC's alumni, many of who have gone on to rewarding careers in the arts.
"Mollie has made a tremendous impression on the artistic abilities and creativity of SFSC's students," Garren said. "Our alumni have moved on to exciting careers in the arts but return for regular alumni exhibitions, serving as an inspiration for our current students."
Doctrow's ardor for nature found an outlet on the SFSC Highlands Campus. In 2011, she oversaw the opening of the Wildflower Wayside Shrine Trail, a quarter-mile, self-guided walking trail that honors the endangered plant species found on the Lake Wales Ridge, the oldest ecosystem in the southeastern United States. On the trail, the public can glimpse native plants: the pygmy fringe tree, the big flag pawpaw, sky-blue lupine, and St. John's Wort.
Well before her retirement at the end of June, Doctrow will have already completed the line-up for MOFAC 2016-17 exhibition season. "Our first exhibition on Oct. 5 will open the season with works by former faculty, regional artists, and SFSC alumni," Doctrow said. "It will be a great evening to introduce MOFAC's new curator, Megan Stepe, to the museum's family."
What words of advice does Doctrow have for Stepe? "MOFAC is awesome!" Doctrow said, thrusting her arms in the air. "What's more, Megan will find a supportive community that includes the college administration, its trustees, the faculty, our students, the dedicated volunteers, and an amazing number of residents who are committed to Florida history, culture, archeology, and art."
Doctrow's retirement plans call for her to stay put in Highlands County. "People keep asking me what I am going to do after SFSC," Doctrow said. "I tell them 'art.' I am going to do art full time, like a job. I'll wake up, go to my studio and put in a day's work, then do other things."
Through her 11 years at MOFAC, Doctrow continued to exhibit her work in venues across the state and abroad. Some of her recent work will go on display this month at an exhibition mounted by Arts on Douglas, a New Smyrna Beach gallery.
"My love for art comes from my passion for nature," Doctrow said. "It's not about the art, it's about the experience. That's what making art is for me. That's what MOFAC has been about, the experience of a community coming together to install art shows, programs, and enjoy the art, history, and sharing."