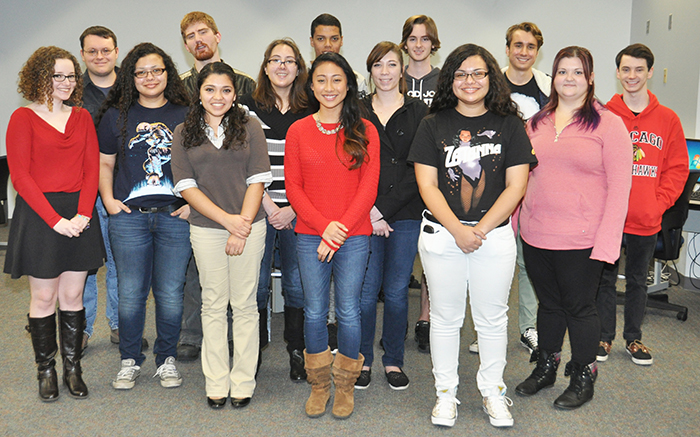 Students receiving the Edward K. Roberts Book Scholarship this spring were, left to right, Araceli Diaz, Mariana Becker, and Heather Oyola. Second Row: Alexis Drzewucki, Katherine Oyola, Nicole Darder, Christina Gourley, and Victoria Warren. Third row: Christian Reitnauer, Patrick Swafford, James Pinkney, Gary Gergen, Mathew Estima, and Tyler Whalen. Not pictured are Breighly Bolton, Hannah Cribbs, Isabela Gonzalez, and Stella Enchautegui.
AVON PARK, Fla.–Jan. 9, 2015–Twenty students in South Florida State College's (SFSC) Honors Program were recently awarded the Edward K. Roberts Book Scholarship to assist with purchasing textbooks.
Students receiving the Edward K. Roberts Book Scholarship this spring included Tyler Akins, Mariana Becker, Nicole Darder, Alexis Drzewucki, Matt Estima, Gary Gergen, Christina Gourley, Harrison Havery, Katelynne Leman, Stella Maldonado, Araceli Marquez, Heather Oyola, Katherine Oyola, Keysha Pecor, James Pinkney, Christian Reitnauer, Christopher Robbins, Ieshia Spencer, Patrick Swafford, and Tori Warren.
The merit-based scholarship awards $500, $250 in fall and spring terms to each student admitted to and in good standing with SFSC's Honors Program. Any student receiving the scholarship must also be enrolled in at least one Honors course during the academic term in which the scholarship is received. Returning students must achieve a 3.30 cumulative college grade point average (GPA) and continue to make satisfactory progress toward the Honors Program Associate in Arts (A.A.) degree.
SFSC's Honor Program offers students intellectual development, cultural enrichment, smaller classes, scholarship opportunities, and special recognition at the graduation ceremony as well as an Honors endorsement on their Associate in Arts degree and transcript.
For more information about SFSC's Honors Program, contact Dr. Charlotte Pressler, director, SFSC Honors Program, and professor, English and Humanities, at 863-784-7247.