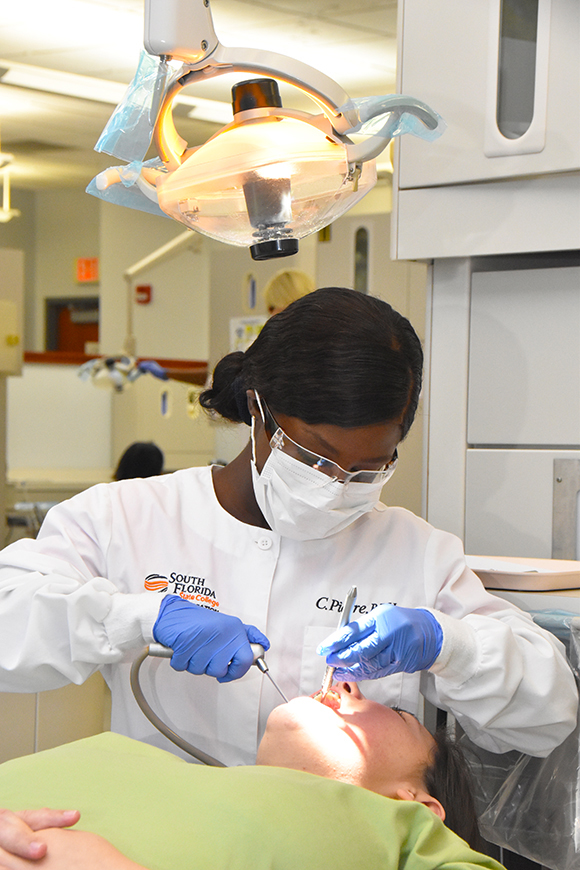 AVON PARK, Fla. – March 7, 2023 – South Florida State College (SFSC) is part of a consortium of three Florida state colleges that will receive $4.7 million toward a four-year initiative called "Increasing Access: The Next Generation of Healthcare Professionals."
SFSC, the College of Central Florida in Ocala, and Lake-Sumter State College in Leesburg are partnering to address Florida's need for a highly qualified healthcare workforce and to close equity gaps in college entrance and degree or certificate attainment among underserved and underrepresented populations. The College of Central Florida will serve as fiscal agent and grant leader.
The funds were awarded through a U.S. Department of Labor grant. In February, the U.S. Department of Labor awarded $50 million in grants, specifically, to help 15 community and state colleges in 14 states expand access to education and training for good-paying jobs and equitably meet employers' and workers' skill development needs.
The consortium identified equity gaps in health program enrollment, retention, and degree or certificate attainment rates for underserved and underrepresented students, specifically among Black, Hispanic, and low-income students. Providing increased access to or upgrading skills in healthcare fields can, in turn, increase earnings and social mobility for individuals as well as address the community need for a well-trained healthcare workforce.
"Each college in our consortium has proposed increasing program enrollments and strategies to meet the needs for a well-trained healthcare workforce of our communities," said Dr. Kathleen Cappo, SFSC dean of Health Sciences and SFSC lead on the grant. "We plan to fill the equity gaps of underrepresented students in our districts by strengthening the academic wholistic support to meet the high demands across healthcare disciplines. These strategies include recruitment to health sciences programs, student tutoring, success coaches, partnership with industry, and an accelerated certificate program. This project will leverage SFSC's Panther PATHways and structure guidance and proactive support to improve attainment rates for Health Sciences."
SFSC's Panther PATHways provide students with clear academic program maps, help students choose and enter pathways, provide support services to help students stay on track, ensure that students are learning, and provide students with career development support.
The funds from the DOL grant will focus on tutoring services to assist students in Health Science programs as well as students in prerequisite courses, such as Anatomy & Physiology and Microbiology. The wholistic support services will identify academic concerns and guide students through personal challenges that may impede their ability to complete their education.
Further, SFSC will reach out to high school students in its district to start them on an academic path to healthcare degrees and certificates. Through the Dual Enrollment program, students can prepare for college degrees in healthcare programs by taking prerequisite courses.
The healthcare programs at SFSC covered under this grant are: Practical Nursing (PN) Career Certificate, Generic Nursing (RN) Associate in Science, Transition Nursing (LPN to RN) Associate in Science, Bachelor of Science in Nursing (RN to BSN), Dental Hygiene Associate in Science, Dental Assistant Career Certificate, Radiography Associate in Science, Emergency Medical Services Associate in Science, Paramedic College Credit Certificate, and Emergency Medical Technician.
For more information about any of these programs, contact Danielle Ochoa, Health Science advisor, at 863-784-7027 or visit SFSC's website at southflorida.edu.