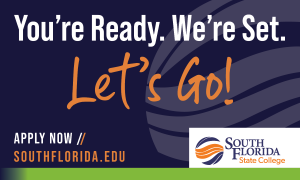 AVON PARK, Fla. – June 1, 2020 – South Florida State College (SFSC) rolled out its new marketing campaign to refresh its message and adapt to our changing and challenging world. The headline of the new campaign is: You're ready. We're Set. Let's Go!  
The new campaign speaks to those who are apprehensive about getting their education started or those who may have doubts about returning to college. SFSC has a variety of instruction options for students to choose from that include fully online, small class size, hybrid (face-to-face and online), and the RN program has the option of evenings and weekends.
"We want students to know that our staff and faculty are ready to start them on the path to the rest of their lives," said Melissa Kuehnle, director of institutional communications at SFSC. "We know that each student has their own unique needs, interests, and goals, and we are supportive of all three. For instance, if a student wants to stay local because they don't know what the future holds, SFSC can assist that student in achieving their current goals and save them money in the process. We are set to serve our community, and we know they are ready to get started."
SFSC plans to use a mix of media in the coming months, including print, outdoor, digital, and social. The campaign is a fresh reminder that through higher education, the time is perfect to get started on a bright and positive future.
For more information about SFSC, call 863-453-6661, email recruiter@southflorida.edu, or visit southflorida.edu.