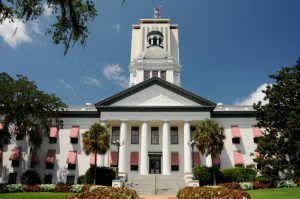 AVON PARK, Fla. – Nov. 22, 2019 – South Florida State College (SFSC) is one of seven colleges in Florida awarded with the Florida Pathways to Career Opportunities Grant.
During the 2019 Legislative Session, Governor Ron DeSantis worked with the Florida Legislature to secure historic funding for Florida's students and families, including $10 million dedicated to career and technical education for the newly created Florida Pathways to Career Opportunities Grant Program. The program provides competitive grants to eligible institutions to create or expand apprenticeship and pre-apprenticeship programs.
The six other colleges receiving funds under this grant are the College of Central Florida, Daytona State College, Hillsborough Community College, Indian River State College, Miami Dade College, and Northwest Florida State College. Florida International University, 15 Florida school districts, and the ICTC Governing Board dba AMskills will receive funding as well.
SFSC was awarded the grant toward a new Advanced Patient Care Technician (APCT) Apprenticeship program in partnership with CareerSource Heartland and AdventHealth. The program will prepare apprentices for employment as nursing assistants, home health aides, and healthcare support occupations encompassing skills in phlebotomy and electrocardiography.
"This apprenticeship program establishes an opportunity to address the existing workforce gaps especially in our hospital(s) service area. The program also creates meaningful career opportunities for the residents of our local counties," said Randy Surber, chief executive officer (CEO) for AdventHealth.
The workforce demand driving AdventHealth to sponsor and collaborate with SFSC to create an APCT apprenticeship will continue to accelerate such initiatives well into the future. The apprenticeship model, while relatively new in the healthcare industry, is rich with the potential to provide a pathway to a pipeline that fosters economic independence for individuals and their families and opens the door to future career opportunities.
"It has been a challenge for years to fill such positions and to train and retain individuals at this level of care provision," said Elsie Graves, chief nursing office (CNO) at AdventHealth. Her perspective on the need to establish such an apprenticeship is that "We always, always need more hands at the bedside. The support such individuals provide can decrease caregiver burnout, provide meaningful work for a community in need, create a life-changing path to success while expanding employees' skillsets. Participation in such a program has tremendous potential to foster economic independence for individuals and their families and opens the door to other career opportunities."
The two-year apprenticeship program begins in January 2020 with an anticipated first cohort enrollment of 12. The criteria for selection includes:
A minimum high school diploma or equivalent
Completion of basic life support certification
Satisfactory clearance provided by the sponsor, including background checks and clinical requirements
Technical standards approval by the healthcare provider
Contractual agreement for conditions of participation provided by the apprenticeship sponsor
Adherence to all technical, clinical, and workplace requirements for the duration of the apprenticeship
"SFSC is grateful for Governor DeSantis' support of the Florida Pathways to Career Opportunities Grant," said Dr. Michele Heston, dean of health sciences at SFSC. "The demand for the role of the Advanced Patient Care Technician will address the need for a skilled workforce in health services by contributing to the economic development of the region served. The creation of an earn-while-you-learn opportunity for individuals, who otherwise would not be able to advance their careers, will build a more confident and resilient workforce."
For more information about the new Advanced Patient Care Technician (APCT) Apprenticeship program, call 863-784-7027 or email healthsciences@southflorida.edu.