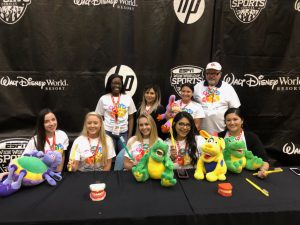 AVON PARK, Fla. – May 24, 2019 – South Florida State College (SFSC) dental students participated in the Special Olympics Florida State Summer Games on Friday, May 17 and Saturday, May 18 by offering dental screenings to almost 750 individuals on Friday and another 900 on Saturday.
The Special Smiles dental screenings were part of the 4,755 health screenings offered through the Healthy Athletes program that is dedicated to improving athlete health and fitness, resulting in a greater experience in sports and wellness.
Throughout the two days, 2,425 athletes from across Florida traveled to Disney's ESPN Wide World of Sports Complex in Orlando to compete in a variety of sports. In attendance for the opening ceremonies was Senator Rick Scott and Orlando City Soccer players Shane O'Neill and Dillon Powers.
"The dental students had a great time supporting the Special Olympics," said Bobby Sconyers, professor of dental assisting at SFSC. "We were honored to participate in an event that contributes to the lives of so many."
For more information about the dental programs at SFSC, call 863-453-6661 or email healthsciences@southflorida.edu.
ABOUT SPECIAL OLYMPICS
The ultimate objective of Special Olympics Florida is to help people with intellectual disabilities participate as productive and respected members of society at large, by offering them a fair opportunity to develop and demonstrate their skills and talents through sports training and competition, and by increasing the public's awareness of their capabilities and needs.
ABOUT SOUTH FLORIDA STATE COLLEGE
SFSC is a comprehensive, open-access, higher education institution dedicated to providing a student-centered environment focused on learning and personal enrichment through quality programs and services. At its campuses in DeSoto, Hardee, and Highlands counties and through its online presence, the College offers certificates, associate degrees, and bachelor's degrees that lead to the continued success of its graduates and a variety of opportunities for the educational, cultural, and economic advancement of the service district. SFSC is one of the 28 institutions of the Florida College System.