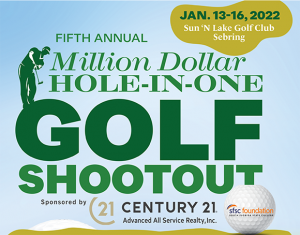 AVON PARK, FL – Jan. 4, 2022 – The South Florida State College (SFSC) Foundation will host its fifth Annual Million Dollar Hole-in-One Golf Shootout at Sun 'N Lake Golf Club with qualifying rounds taking place on Thursday, Jan. 13 and Friday, Jan. 14 from 11:30 a.m. – 5:30 p.m. and on Saturday, Jan. 15 from 7:30 a.m. – 5:30 p.m. The final round will take place on Sunday, Jan. 16 at 9 a.m. Proceeds from the Golf Shootout benefit the SFSC Athletic Department. SFSC fields four athletic teams: women's volleyball, women's cross country, men's baseball, and women's softball.
"We are excited again to host the Million Dollar Hole-in-One Golf Shootout," said Rick Hitt, SFSC Athletic Director. "Since the inaugural Shootout, we have given out thousands of dollars in prize money to our qualifiers and we look forward to doing it again this year in hopes of delivering on the grand prize of $1 million. This community has supported athletics at every level every year that I can remember in the 34 years of my coaching career. We look forward to the enjoyment of the qualifying rounds and the excitement and enthusiasm that the final round of the Million Dollar Hole-in-One Golf Shootout brings."
Amateur adult golfers are eligible to participate in the Shootout and compete for $1 million provided through Putting Hole-in-One Shootouts Prize Promotions. If no one sinks a hole-in-one, the closest shots to the hole will win prizes. First place will receive $750, second place will receive $500, third will receive $250, and fourth will receive a pro shop gift card from Sun 'N Lake Golf Club. Golfers can purchase a bag of 10 balls for $10. Participants may purchase an unlimited number of bags.
"We are thankful to everyone who supports SFSC by participating in our Million Dollar Hole-in-One Golf Shootout," said Jamie Bateman, executive director of institutional advancement at SFSC. "The success of this event is made possible by our generous donors and sponsors who take the lead in ensuring our students have the means to succeed in their goals of higher education. Our athletes and all our students are blessed because of everyone who comes out to play."
Sponsorships for the Shootout are still available. For more information about the Million Dollar Hole-in-One Golf Shootout or sponsoring the event, contact the SFSC Foundation at 863-453-3133 or foundation@southflorida.edu.
ABOUT THE SFSC FOUNDATION
The South Florida State College (SFSC) Foundation enhances community awareness of the College, solicits and accepts gifts, receives bequests, and manages and helps to appreciate cash gifts or non-cash gifts donated to the SFSC Foundation. Such contributions are tax deductible to the full extent allowed by law. Funds received by the SFSC Foundation are distributed to endeavors that benefit the college and subsidize its students, staff, and programs. The SFSC Foundation offers scholarships and provides funding to maintain educational facilities.