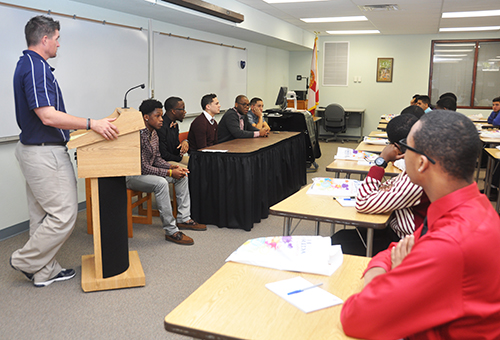 AVON PARK, Fla.–Jan. 23, 2015–Over 36 male students from Avon Park High School visited South Florida State College's (SFSC) Highlands Campus on Jan. 22 for the first College Bound Male Initiative. The event, for high school males in SFSC's district of DeSoto, Hardee, and Highlands counties, was recently created to provide comprehensive programs, services, and encouragement to young men that will prepare them for admission into and graduation from institutions of higher education.
"When I realized we had a crisis in our community of young men not pursuing higher education and dropping out, I had to do something," said Eddie Cuencas, coordinator of SFSC's Panther Youth Program. "With the help of Andy Polk, student life coordinator and assistant baseball coach, and Rob Hampton, veterans' services advisor, we developed the College Bound Male Initiative. This event was a first step in providing these local young men the skills, support, and foundation they need to succeed in higher education."
College Bound Male Initiative featured several guest speakers including Andy Polk who explained why male students should go to college; Rob Hampton, who discussed the process for applying to college; and keynote speaker, Rick Hitt, SFSC athletic director and head baseball coach, who spoke on the road ahead.
The event featured a student panel of graduates from SFSC's district high schools who spoke about their challenges and how they overcame those with the support of family, college staff and faculty, and resources available at SFSC. Those resources are the TRIO program, Panther Youth Program, CROP program, and campus student activities. The SFSC student panel included Ricky Sherrill, Greg Rawlings, Jose Torres, Alfred Brown, and Rashaud Williams.
SFSC is already preparing for its next College Bound Male Initiative to take place in early March. The college hopes to have high school males from all high schools in SFSC's district in attendance.
For more information, contact Eddie Cuencas, Panther Youth Program coordinator, at 863-784-7161 or email Eddie.Cuencas@southflorida.edu.