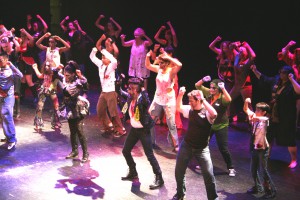 AVON PARK, Fla.–Oct. 19, 2015–The South Florida State College Performing Arts Club will host the annual Thrill the World event on Saturday, Oct. 24 on the Highlands Campus in the Alan Jay Wildstein Center for the Performing Arts at SFSC.  
The SFSC Performing Arts Club is recruiting zombies of all ages to participate in the Thrill the World event in central Florida.  All zombies throughout the world will dance to "Thriller" at precisely 6 p.m. on Saturday, Oct. 24.   To participate, register online at www.sfscarts.org. Registration is $5 per person and participants can attend the dance lessons, participate in the global event and attend the screening of the zombie horror classic, Night of the Living Dead.
Thrill the World is an annual worldwide simultaneous dance of Michael Jackson's song, "Thriller." This tribute to Michael Jackson was founded by Ines Markeljevic, a dance choreographer and instructor in Toronto, Canada. It is her unprecedented Thriller dance instructional teaching videos that make it possible for dancers, non-dancers, young and young-at-heart learn the dance in a very short time.  In 2013, zombies at 134 events in 22 countries and six continents raised $68,000 for charities.
Thrill the World South Florida State College is a fundraising event for the SFSC Performing Arts Club. "It's not about how well someone dances," said club member Denzil Snipe. "Our goal is to have 50 zombies of all ages come out for this fun event.  Elementary school kids can do it and grandmas can do it, too."
Dance lessons will be offered on Saturday, Oct. 24, 2-4 p.m., the Alan Jay Wildstein Center for the Performing Arts at SFSC.  The global dance begins at 6 p.m.  There is no charge for spectators.
"If you can't attend the dance lessons, go online at www.thrilltheworld.com, and watch the video.   You can learn the dance in your home and then join the club onstage," said Cindy Garren, SFSC director, Cultural Programs.
The Performing Arts Club will also show the George Romero classic horror movie, Night of the Living Dead, at 7 p.m., Oct. 24, in the SFSC University Center. Night of the Living Dead premiered on Oct. 1, 1968 and became a financial success.   It has since become a cult classic, eventually garnering critical acclaim.  The film has been selected by the Library of Congress for preservation in the National Film Registry, as a film deemed, "culturally, historically, or aesthetically significant." The story follows characters Ben (Duane Jones), Barbra (Judith O'Dea), and five others trapped in a rural farmhouse in Western Pennsylvania, which is attacked by unnamed "living dead" monsters drawing on earlier depictions in popular culture of zombies.
For more information, contact Garren at 863-784-7177 or email thrilltheworldsfsc@gmail.com.