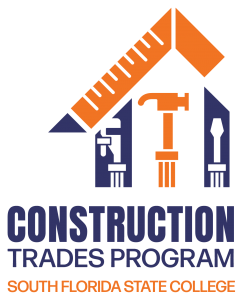 AVON PARK, Fla. – Oct. 6, 2021 – South Florida State College (SFSC) is pleased to announce its association with National Center for Construction Education and Research (NCCER). NCCER is a not-for-profit education foundation that is supported through the participation of partnering trade associations; construction and maintenance firms; contractors; business owners; schools; and third-party providers. NCCER curriculum meets the Department of Labor Office of Apprenticeship requirements for apprenticeship programs throughout the United States.
"The NCCER curricula affords our students tremendous opportunities and pathways to grow their knowledge and skills in the construction trades," said Fred Hayes, coordinator of the Construction Trades program at SFSC. "Our instructors, all of whom have over 35 years of experience in their trade each, have gone through the required NCCER instructor training in order to provide the best possible learning experience for our students." 
SFSFC students receive training equips them to be productive team members of a construction crew, whether it be in electrical, carpentry, plumbing, or masonry. Upon successful completion of the selected program, students receive NCCER certification in Basic Core Construction Skills, Level 1 (of four potential levels) of their selected trade, OSHA 10 Basic Construction Safety Certification, and the basic hand tools they have trained with.
Another tremendous benefit is that students are afforded tuition assistance provided by CareerSource Heartland. When approved, students may receive up to total tuition coverage by CareerSource.
For more information about the Construction Trades program at SFSC, call Hayes at 863-201-7195 or email fred.hayes@southflorida.edu.