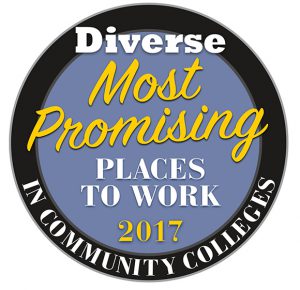 AVON PARK, Fla. – June 20, 2017 – For a second time, South Florida State College received recognition as a Most Promising Place to Work in Community Colleges, and the findings for 2017 were published in the May 18 edition of Diverse Issues in Higher Education magazine. SFSC was initially recognized in 2015.
SFSC joins 11 other colleges across the country to receive top marks for the extent to which diversity and inclusiveness imbue their administrative structures, work environments, and staffing practices.
"This recognition confirms a strong commitment by college trustees and leadership to ensure diverse employment practices throughout the organization," said Dr. Thomas C. Leitzel, SFSC president.
The Center for Higher Education Enterprise (CHEE) at the Ohio State University conducted the survey and analyzed the results for the National Institute for Staff and Organizational Development (NISOD) and Diverse, a magazine which reports and publishes on diversity, access, and opportunity in higher education. With a focus on workplace diversity, staffing practices, and work environment, the CHEE research team used a web-based survey to examine categories such as family friendliness, salary/benefits, and professional development opportunities.
NISOD and Diverse commissioned their inaugural study in 2014.
One other member of the 28-member Florida College System, Tallahassee Community College, gained a spot on the list of Most Promising Places to Work in Community Colleges. Other colleges that received recognition were Blinn College, Texas; El Centro College, Texas; Montgomery County Community College, Pa.; Mountain View College, Texas; Oklahoma State University Institute of Technology, Okla.; Pierpont Community College, W.Va.; Seward County Community College, Kan.; Southwest Virginia Community College, Va.; and Stella and Charles Guttman Community College, N.Y.
Award recipients were also provided with a specially designed logo they can use to promote their institutions' commitment to diversity during student and staff recruitment efforts.