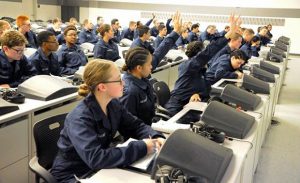 AVON PARK, Fla. – Aug. 19, 2020 – South Florida State College (SFSC) has entered into a contract to provide educational services for the newly formed U.S. Naval Community College (USNCC). SFSC is one of 119 colleges across the country contracted to provide distance learning training for active duty Sailors, Marines, and Coast Guardsmen.
"We will start enrolling active duty members of our armed forces this fall for our spring term that begins in January 2021," said Erik Christensen, SFSC dean of applied sciences and technologies. "This will include online College Career Certificates and four Associate in Science degrees. Although outside the scope of this partnership, these students could also continue with SFSC and work toward two fully online bachelor's degree programs."
The programs SFSC will make available to the USNCC will be Associate in Science degrees in Network Systems Technology, Health Services Management, Business Administration, and Accounting Technology. College Credit Certificates may be obtained in Network Security, Health Care Services, Business Management, and Accounting Applications. Other programs available will be the Bachelor of Science in Nursing and Bachelor of Applied Sciences in Supervision and Management.
The USNCC will provide a college education to the enlisted force to enhance combat and deterrence effectiveness of the Navy, Marine Corps, and Coast Guard. Sailors, Marines, and Coast Guardsmen will be enrolled automatically in the USNCC at the time of enlistment to demonstrate the importance of education to a naval career and to return to civilian life successfully. This not only helps the individual Sailor, Marine, or Coast Guardsman, but provides the armed services with more technically trained members which will result in greater warfighting potential.
The main features of the USNCC include conferring transferable and recognized associate-level academic degrees and certifications, providing flexible delivery methods to account for operational demands and technological constraints of a globally distributed workforce, developing academic programs in alignment with the needs of the Navy, Marine Corps, and Coast Guard as well as recognizing various forms of learning obtained through military technical and leadership training.
"We are excited about the possibilities that this partnership brings to the College," Christensen said. "Aside from the fact that this will provide an additional source of student enrollment to SFSC in our online programs, the College is honored to be able to play a role in helping to support and strengthen our country's armed forces through education. As a retired naval officer, I am thrilled at the opportunity to be able to help our nation's armed forces take advantage of this wonderful opportunity to enhance their education while they serve our great nation."
The first pilot of the USNCC will begin in January 2021 with approximately 500 active duty Sailors, Marines, and Coast Guardsmen. The second pilot will start in January 2022 with 5,000 students. For the first year or two, students will be selected to participate in the USNCC as the concept is proven and while the Navy works to win authorization from Congress to continue and grow. Once the USNCC is up and running at scale, open enrollment will be offered to the entire enlisted force. Full-scale operations with up to 25,000 students are expected to start in January 2023.
For more information on USNCC and SFSC partnership, contact Dean Erik Christensen at erik.christensen@southflorida.edu or 863-784-7424.