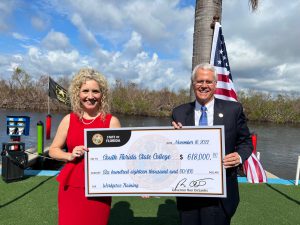 Nov. 16, 2022 – 
Florida Governor Ron DeSantis awarded state funds to South Florida State College (SFSC), Florida SouthWestern State College, and State College of Florida, Manatee-Sarasota today in Matlacha, Fla. Gov. DeSantis presented SFSC President Tom Leitzel with a check in the amount of $618,000 for the College's Commercial Vehicle Driver and Welding programs.
"We have to make sure we have people with the right training to be able to fill key positions in our workforce and our economy, in particular, things like skilled labor that are really at a premium," said Gov. DeSantis.
SFSC will use these funds to support student scholarships, a full-time instructor position, and a tractor trailer to expand the CDL program. Machines, simulators, and positioners will be purchased to train students in the Welding program and allow for daytime instruction. In addition to SFSC, the State College of Florida, Manatee-Sarasota received $2.94 million and Florida SouthWestern State College received $1.98 million.
"Once again our governor came through to support workforce development efforts in the Florida College System," said President Tom Leitzel. "The funds allocated to South Florida State College will immediately assist students seeking career placement in high-paying, high-demand jobs."
Earlier this year, SFSC received funding from Gov. DeSantis to purchase truck-driving simulators that students use to begin their training in the CDL program. SFSC's Commercial Vehicle Driver Program is a four-week course that offers in-depth, hands-on truck driving experience and provides connections with future employers. Joe Burke, who was a truck driver for 36 years, is the program's coordinator and instructor. The College accepts approximately 260 students into the program annually.
The Welding program is 25 weeks long and includes an OSHA Safety course and will include a Forklift Safety Training course for spring 2023. Students are trained in a simulated work environment and gain experience in construction, manufacturing, and fabrication. They are introduced to SMAW (stick), inert gas-shielded welding methods (MIG and TIG), air carbon arc gouging, and oxyfuel and plasma arc cutting.