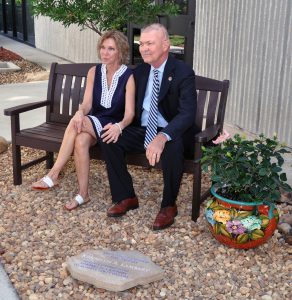 Representing Hardee County, Kenneth A. Lambert joined the South Florida State College (SFSC) District Board of Trustees (DBOT) in November 2011.
During his tenure, he took on the task of chair of the committee charged with the search for a new College president that resulted in hiring Dr. Thomas C. Leitzel in 2013. Lambert was elected chair of the DBOT, serving throughout the 2013-14 academic year. As a trustee, Lambert relished participation in College events and could be seen at performances at the Alan Jay Wildstein Center for the Performing Arts, participating in numerous graduation ceremonies, and joining in festivities associated with SFSC's 50th anniversary celebration.
"Mr. Lambert's great love has always been at the forefront of his position as a trustee at South Florida State College," said Mrs. Tami Cullens, chair of the DBOT.  "Our College has benefitted under his leadership and drive by making a difference for each person that sets foot on our campuses. South Florida State College's District Board of Trustees are honored to serve with a man as phenomenal as Kenneth A. Lambert." 
"Since joining the Board, Mr. Lambert has been an influential force and a strong advocate for supporting the academic mission of the College," said Dr. Thomas Leitzel, president of SFSC. "His love for SFSC was exceptional."
In 2019, SFSC paid tribute to Mr. Lambert's service by installing an honorary bench adjacent to Building F on the Highlands Campus. The inscribed message on a stone next to the bench reads: "Dedicated to honor SFSC Trustee Kenneth A. Lambert and all others who embark on a journey to achieve lofty dreams." This passage expresses the aspiration that Mr. Lambert had for the students, staff, and faculty of SFSC.
On Wednesday, March 11, Mrs. Cullens introduced a special recognition for Mr. Lambert with the unique designation of Trustee Emeritus, so he will always be recognized as a trustee for South Florida State College. The DBOT approved the request unanimously.
In addition, Mrs. Cullens announced the Kenneth A. Lambert Memorial Endowment. "We would like to have something that ensures Mr. Lambert will not be forgotten at this College, and his handprints, his footprints, and his journey with all of us will always be remembered and there will always be something that recognizes him."
Mrs. Jamie Bateman, executive director for institutional advancement at SFSC, continued to explain the details of the Endowment. "Gifts given will provide financial support for SFSC to meet needs and fund projects that cannot be met by the general operating budget," she explained. "The goal is to reach $100,000. We felt that this Endowment would be recognized by the community who may want to support, get behind, and help because of the love and admiration that Mr. Lambert had for the College." The creation of the Kenneth A. Lambert Memorial Endowment was also approved unanimously by the DBOT.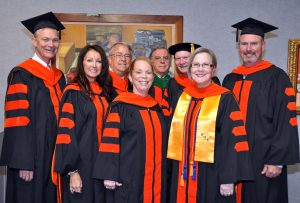 Lambert graduated from SFSC in 1980 with an Associate in Arts and went on to earn a Bachelor of Applied Science in Public Relations/Image Management from the University of Florida in 1983.
Lambert and his wife Eileen married in 1985 and have three sons—Ryan, Grayson, and Carter. Wauchula is home to Lambert, where he and brother Bill grew up. Although much of his professional career focused on marketing, he worked with his mother, Doris, in her real estate business, Lambert Realty.
"Kenny was about family," said Terry Atchley, Wauchula city manager. "His passionate focus was always about his boys. And he and Eileen took in a young man a few years ago who was without family and he just became a part of their family."
Lambert was also a public servant within his community. He was a commissioner of the City of Wauchula from 2004 to 2009 and from 2012 to the present and mayor of the city from 2000 to 2004. "Kenny was the driving force to establish Wauchula's first city charter—in going from a strong mayor to a commissioner/management form of government. He's always been the rock for the City of Wauchula. Anytime we were developing a workshop or planning session, the one test question that came up was, 'What will Commissioner Lambert ask?' He doesn't mind speaking up and have an opinion on a matter. He was our measuring stick to make sure that we'd researched and reviewed everything—to make sure we'd given thorough thought about it."
Lambert was a member of First Baptist Church of Wauchula. "He has been extremely active in church, especially in the choir, since he was young," said Dr. Sylvia Collins, a member of the church, a close friend of Lambert's mother, and a member of the SFSC DBOT from 1981 to 1990. "He was a part-time director of the choir from time to time. Over the years, he served in many capacities, including chair of the Budget and Personnel committees."
Dr. Collins was Lambert's language arts teacher when he was in junior high school. "As a student, he was very bright, academically," she said. "He's always been friendly and outgoing. He was a leader in junior high school and at the University of Florida. Leadership has always been one of his gifts."
Lambert has been a managing member at Summit 105 Group, LLC since 2013. Previously, he was vice president of enterprise solutions for Knowledge-Based Marketing Group from 2011 to 2013, a senior vice president for Merrill Corporation from 2009 to 2011, a self-employed marketing services consultant from 2007 to 2009, senior vice president of Harte-Hanks Direct Marketing from 1989 to 2007, and vice president and officer with First Union National Bank from 1983 to 1989.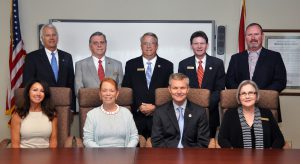 Kenneth A. Lambert's time on earth ended on March 15, 2020, but his legacy and faith will always be felt by the SFSC community and his influence will be realized through the impact of the Kenneth A. Lambert Memorial Endowment.