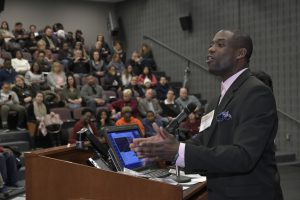 Aug. 7, 2023 – South Florida State College (SFSC) will welcome Frederick Shegog, founder and CEO of The Message LLC, at its annual Convocation on Monday, Aug. 14. Shegog will present his talk, "What is Your Legacy?" to SFSC faculty, staff, and administration, about his personal transformation from homeless to high honors.
"We are excited and grateful to have Freddy Shegog join us for Convocation," said Dr. Michele Heston, vice president for academic affairs and student services at SFSC. "His message is both inspiring and hopeful, and although faculty and staff at SFSC regularly nurture and encourage our students, Mr. Shegog's recommendations would further enhance our relationships with students as we begin the 2023-24 academic year."
A decade of Shegog's life was spent as an alcoholic who lived on the streets of Philadelphia and panhandled to survive. His struggle with mental illness and addiction derailed his childhood dreams until he decided to change his life and enrolled at Delaware County Community College in Pennsylvania where he excelled and became an honors student.
Shegog continues to travel the nation representing The Message LLC, his motivational speech company, and address audiences about his experience and motivate educators and administrators to provide additional services for students in need. He has spoken at events hosted by the National Institute for Staff and Organizational Development (NISOD), the National Association for the Education of Homeless Children and Youth (NAEHCY), Mississippi State University, The Texas Association of Collegiate Registrars and Admissions Officers (TACRAO), and dozens of others. The Chronicle of Higher Education published "The Redemption of Frederick Shegog," recounting his life story and it received the Education Writers Award. Shegog was honored as the Philadelphia Region's Black Men Icon of 2020, joined Omicron Delta Kappa and Phi Theta Kappa honor societies, and graduated summa cum laude in 2022 from West Chester University in Pennsylvania.
With Convocation signifying the beginning of the 2023-24 academic year, SFSC employees will enjoy Shegog's "What is Your Legacy?" presentation and a Q&A with the speaker, along with departmental meetings, training, and staff awards. All SFSC campus locations will be closed from 8:30 a.m. – 2 p.m. on Aug. 14 for Convocation.
The fall academic term begins on Friday, Aug. 18 and registration is still open. Visit southflorida.edu for more information.