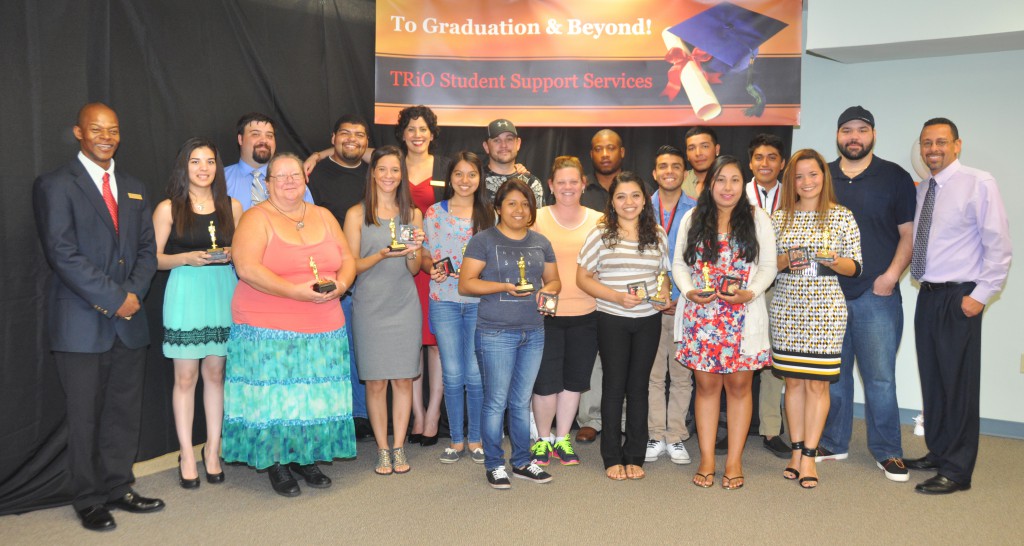 AVON PARK, Fla.–May 4, 2015–South Florida State College's Student Support Services (SSS)/TRiO program recently recognized 43 soon-to-be graduates who have demonstrated academic excellence at a special ceremony on May 1.
SSS/TRiO students recognized were Adan Badillo, Julie Badillo, Michael Baker, Stephanie Belmares, Julio Berrones, Austin Bingham, Amanda Carnahan, Michael Carpenter, Alexander Chung, Jeisa Colon, Martin Damaso, Carlos DeLoera, Kesso Diallo, Denise Fernandez, Carolina Flores, Juniett Gonzalez, Chantell Harris, Liyo Hecto, Eduardo Hernandez, Damiah Hostetler, Chelsey Hughes, Michelle Hunter, Liliana Iniguez, April Jones, Joseph Juarez, Joni Kalinowski, Juliette Perez, Erika Pascual, Yunet Puentes, Tania Salinas, Olivia Sanchez, Ingri Suarez, Lucero Suarez, Brandi Thomas, Cynthia Valencia, Brandon Vargas, Craig Williams, Cheyenne Wise, Christopher Kilpatrick, Gabriel Lambert, Araceli Marquez, Cody Torres, and Jose Torres.
"No matter what you're going through, the SSS/TRiO staff have always made us a priority and are focused on our success," said Craig Williams, SSS/TRiO student speaker. "I know that each and every one of you have had your own struggles and have accomplished so much in order to walk across that stage. I believe that our struggles are what makes accomplishments such as this worth it. May you all strive to be the best that you can be and let nothing stop you on your way."
"The staff at SSS/TRiO is committed to student retention, graduation, and transfer," said Colin Nicholas, director of SFSC's SSS/TRiO program. "We are fully aware that we do not work with our students in isolation, so we continue to express our sincere gratitude to everyone at the college for their abiding commitment to our students' success to graduation and beyond."
 "Our students' success is a product of their hard work and sacrifice as well as a reflection of the support that they receive from their relatives, friends, and the entire college community," Nicholas said. "We all share in the celebration of their achievement and wish them continued success as they continue to pursue their academic and career goals." 
SSS/TRiO is a federally funded program that helps first-generation, low income, and students with disabilities with demonstrated academic need to overcome class, social, and cultural barriers to higher education. The goal of the program is to increase retention, graduation, and transfer rates from two-year to four-year institutions of eligible students. The program is a student-focused center of excellence in academic advising, career exploration, disability services, mentoring, supplemental instruction, student development, and tutoring.