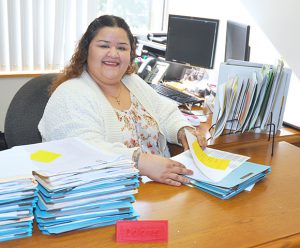 AVON PARK, Fla. – Dec. 5, 2019 – Dolores Breedlove will approach the podium as student speaker during South Florida State College's (SFSC) Commencement ceremony on Thursday, Dec. 12, 6:45 p.m. at the Highlands Campus in Avon Park. She will receive her Bachelor of Applied Science in Supervision and Management (BAS-SM). But it isn't her first degree from the College. In December 2017, she earned an Associate in Science in Supply Chain Management. She is also a member of Phi Theta Kappa, an international society that recognizes the academic achievements of community and state college students.
These are high achievements for any college student. But for Breedlove, the support from family and angels in disguise helped her move forward in spite of her past and understand that she can attain anything she chooses.
Breedlove, primarily, grew up in Hardee County, Fla. Her parents were migrant farmworkers, and her family followed the growing seasons. They would head north to Georgia to pick peppers, squash, and cucumbers and return to Florida for citrus.
"Life was rough, but I learned to have a good work ethic," she said. "When we were up north, we worked. My mom wouldn't put us in school. She would wait until we came back to Florida. If we helped my parents work, it was more money coming toward the household. But when we returned to Florida, we would start school later in the year than other kids. The other kids would all know each other by then and we'd have to catch up with the classes. I remember failing third grade because I couldn't catch up."
At age 15, Breedlove's parents legally separated and it tore her family apart. "My siblings and I had to pick who we'd go with. I went with my mother, and my brothers went with my father. That flipped my whole world upside down. I'd lost my dad and my brothers."
Breedlove became violent, particularly at school, in spite of achieving good grades. "I was bad in school and was getting into fights," she said. "We didn't have money for me to go to therapy, but later in life, I learned that I was angry at my mom and dad. I got expelled in 11th grade and got arrested for fighting."
Breedlove's life took a turn for the worst. In her life, she's been arrested seven times. At one point, she was on house arrest for violating her probation.
"Under house arrest, you had to be working full time," she said. "You had to check in with your probation officer every Tuesday at a certain time, and you only had one hour to grocery shop a week."
In 2008, while on house arrest, Breedlove's job at a local nursery came to an end. It was the recession and she was laid off. She was frightened. Not only would she no longer have a job, but she was paying $375 in restitution and probation fees each month. And she would have to face her probation officer, Robert Davis, with the news.
She immediately headed to his office, and he called her employer to verify that she had been laid off. He then gave her the lecture that set the course for her future.
"The only person who's taken your freedom from you is you," he said. "You've taken your freedom, you've taken enjoying your life, and you've taken your innocence. You're a smart girl, and you shouldn't be in this seat. What happens from now and going forward is up to you."
He then asked her if she'd thought about getting an education. "You know that I got expelled from high school and that means that education is not an option," she said.
He told her that was nonsense and informed her that according to the terms of the probation, she had the option of working full time or going to school full time. He guided her to apply for General Educational Development (GED) test preparation through the Hardee County School District's Adult Education program. "I'm 100% sure that this is what you need for your life," Davis said. Within one month, Breedlove had passed the GED exams and earned her high school diploma.
Davis then sent Breedlove to the SFSC Hardee Campus to speak with a student advisor. She had told the advisor that she wanted to be able to take care of her mother in case something happened to her. So, the advisor urged Breedlove to enter the Certified Nursing Assistant (CNA) program. Upon completion, she was scheduled to take the state certification exam but was told that because of her history, she would not be able to take the exam.
The advisor then suggested she consider the Associate in Science in Supply Chain Management program at SFSC. It was perfect for her. "I love the distribution process," she said. "My husband and I worked at the Peace River Citrus Products juice plant in Arcadia for five years. I learned every process—from the time the oranges got there until the tankers were loaded. I experienced each step of every process. If there was a job I loved in my life, it was that one."
While working toward her degree at SFSC's Highlands Campus, she took a student Work-Study job through the Dean of Applied Sciences and Technologies office, where she performed office work. "When I worked in that office, I learned how to be more professional," she said.
At the suggestion of the dean and Tara Huften, staff assistant to the dean, she decided to continue her education and was accepted into the BAS-SM program. One day, Steve Ashworth, director of the Emergency Management Services (EMS) and Fire Science programs, stopped by the dean's office. He mentioned that his administrative assistant was retiring shortly and began asking Breedlove a series of questions typical in a job interview.
Eventually, Breedlove was invited to interview for a part-time job in Ashworth's department. The interview with Ashworth and the department professors went well. Toward the end, she was asked, "Is there anything you want to tell us?" She was candid about her criminal background. Then Ashworth asked, "Is that who you are today?" She said, "No," and that concluded the interview. She was offered the position.
"My first impression was that Dolores was a good person who genuinely cared for others," Ashworth said. "Her demeanor was one of humility and honesty. I immediately knew she was the right person to help grow the EMS and Fire Science programs. While working in our department, no matter what she was doing, Dolores always made each interaction with students her highest priority. Her presence was comforting and her professionalism was beyond reproach. She quickly learned all of the skills that were required of her position and then began to teach me the inner workings of College databases and other College programs."
Now, Breedlove's life has come full circle. She recently began a full-time position in SFSC's Farmworker Career Development Program as a case data specialist. The Farmworker Career Development Program helps migrant and seasonal farmworkers and their dependents in Highlands, Hardee, and DeSoto counties realize greater economic stability through career services, training services, youth services, and related assistance.
"Dolores knows, firsthand, the barriers and hardships our students face," said Tara Jefferies, coordinator of the Farmworker Career Development Program. "This experience allows her to connect with our students in depth—better understanding their needs and providing a high standard of service. She is passionate about our program's purpose and that is demonstrated in her willingness to go above and beyond helping students any way she can. And she has filled our department with positive vibes and laughter that create an enjoyable work environment."
For the program, Breedlove maintains all student files and the department database, and runs reports required by the Florida Department of Education. She also assists Jefferies on student job placement plans which include conducting mock job interviews and assisting students in developing resumes.
Breedlove can happily look forward to the future. "My plans are for future growth within SFSC, to get more experience, and to assist other students in choosing a different path for themselves," she said. "I want to continue to guide other students to do better and be better people."
Her advice for people who traveled a path similar to hers and want to make changes in their lives is this: "Never give up no matter what has happened in the past. The future is always open to new and positive experiences. Keep moving forward. Getting an education is the smartest decision I ever made in my life. Because of it, so many opportunities in life have opened up for me."