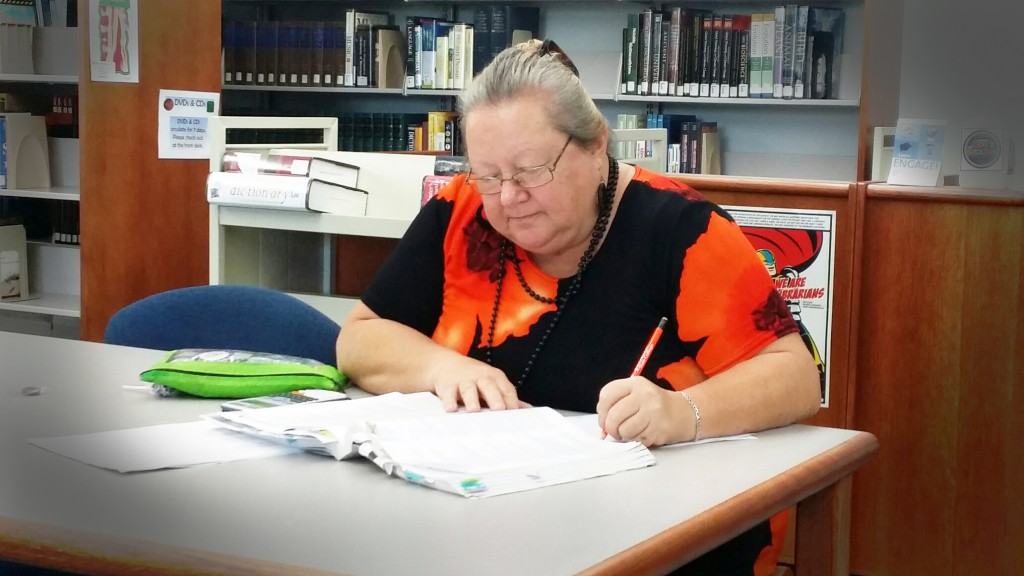 AVON PARK, Fla.–May 1, 2015–Growing up Joni Kalinowski, 56, always dreamed of getting married, having a house full of kids, and becoming a grandparent. Life unfolded before her in a beautiful way.
The Arcadia resident got married, had two children, and was fortunate enough to focus on raising her children rather than working full time. Although she did not have all the luxuries in life, she had a happy and healthy family.
All she ever hoped for came true, but in the blink of an eye, her circumstances changed drastically. After both her children graduated high school and moved away for college, Kalinowski and her husband decided to quit their jobs, sell their house, and pack everything up to move to Florida to be closer to their children.
"It took a lot of work for us to get back on our feet financially but we did it," Kalinowski said. "In 2006, we purchased a beautiful new home, my husband and I both had full-time jobs, and we were loving life. We had it all, everything that we wanted and needed."
Then in January 2009, the family received devastating news. Kalinowski's husband was diagnosed with stage four lung cancer. Everything changed. She quit work to care for her him, and the life she looked forward to spending with him was in jeopardy.
On Easter Sunday, April 4, 2010, her husband passed away. "My life ended," Kalinowski said. "I lost everything, including hope, happiness, and my passion for life."
Although she was grieving and trying to be strong for her family, she knew she had to get back to work and support her family. She tried finding work but was limited with only her high school education. That's when she decided to pursue a college education.
"When I came to South Florida State College I was lost, lonely, sad, and defeated," Kalinowski said. "I felt useless and was really just waiting to die to be with my husband. I had no confidence in who I was, what I could do, or how smart I was."
"I knew that when I looked for work after college, I would be up against tough competition so I worked extra hard," she said. "Much to my surprise, my first semester, I had a 4.0. I was shocked. I was encouraged and continue to be encouraged by the staff and professors at SFSC. Everyone that I have had the pleasure of working with has pushed me to do my best. They saw in me what I couldn't see."
Kalinowski shared that she was constantly challenged in her work at the college, which forced her to think positively and to interact with other students.
"I was able to interact with students who are stumbling along just like me," Kalinowski said. "Not sure of what we are doing or where we are going, but moving forward with confidence that we will land on our feet. Every student that I've been with in the past two years has been excellent supporters. They treat me with respect for my age, but treat me like one of them. We have so much fun together, learning, making mistakes, moving forward, and constantly pushing forward."
Kalinowski feels so much more confident in her abilities as a student that after she graduates this May with her Associate in Arts degree, she plans to pursue her bachelor's degree at USF.
"I'm beginning to feel hopeful about my future," she said. "Interacting with everyone has brought me so much pleasure and happiness. I'm starting to feel passion for life again. South Florida State College has given me hope for the future, trust in myself, courage to try, and confidence that someone will be there to help me when I reach out."
SFSC's Spring Commencement ceremony will be held Thursday, May 7, 6:45 p.m., in the SFSC Theatre for the Performing Arts, Highlands Campus.