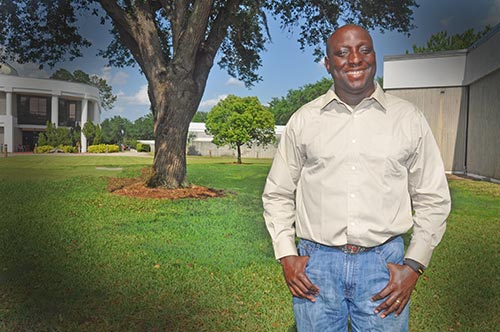 AVON PARK, Fla.–April 24, 2015–While growing up as a "military brat," Kevin Brown, 33, was forced to make friends quickly, accept new surroundings, and have a deep appreciation to adapting and changing on a moment's notice.
After many years of struggling with behavioral problems, lack of job options, and financial instability as a young adult, Brown had to make a life-changing decision at the age of 24. He decided to turn his life around and follow in the footsteps of his father, mother, sister, aunts, uncles, and cousins by entering the military.
"The military was just the right direction for me to go in at the time," Brown said. "It straightened me out, and I started to see myself working there long-term. Although some may look at the military as a job, it was a calling for me."
He was passionate about the opportunity to serve his country, turn over a new leaf, and become the first marine in his family. Unfortunately, Brown's life plans didn't turn out as he had hoped.
After serving just four and a half years in the Marines, Brown was medically discharged and unsure about his future. He had always dreamed about becoming a paramedic, working with computers, or becoming a culinary genius, but life circumstances always seemed to get in the way. As cliché as it sounds, he knew God had a plan for him.
At that point, Brown decided to do something for his family that would enable his future success in life. He decided to go back to college. This was his second chance at life and an opportunity to better support his family. 
He wanted to make sure he received clear advice on getting back to college and managing the next phase of his education. And that's exactly what he found with South Florida State College. Thanks to his service in the Marines, he was able to take advantage of the G.I. Bill which covered all of his costs for attending SFSC.
Although it was important to him, college always seemed a little selfish because he already had so much on his plate. "Being employed full-time, having a home and family to take care of, and going to college did not seem like a workable choice," Brown said. "I worried about whether my family would be taken care of if I took this big step."
More than a decade older than most of his peers, Brown was not the typical student you would see on a college campus. Upon separation from the military, he was hit with the realization that civilian life was wasn't the easiest but he would have to make the best of it.
"Transitioning from the military to civilian life is something you cannot put into words," Brown said. "Being employed full-time, having a home and family to take care of, and going to college has been quite the challenge. But, my wife has been my biggest rock and has supported me through everything."
SFSC strives to make it a smooth and successful transition for all veterans. When veterans like Brown come home from war and try to put their lives back together, there's often a giant missing link in their transition.
"Many veterans face a difficult transition to civilian life, ranging from readjustment issues to recovery from physical and mental injuries," said Robert Hampton, veteran advisor. "Statistics show that without proper guidance, many will fail to graduate. But, Kevin is the perfect example of a veteran who has used the discipline the Marine Corps taught him. He has invested so much of his time, money, and determination so he could achieve his objective, a college degree."
After it's all said and done Brown is happy that he took on the challenge of going back to college. His experience at SFSC has been positive and has filled a huge void that he's had in his life. He believes that his choices are more educated and based on facts, instead of in-the-moment choices that lead to nothing but headaches. He shared that he can truly say that he is a father and husband who is proud and loving of what he has as a family.
"Graduating with my associate degree has been 13 years in the making," Brown said. "It's reassuring to know that time or age is not a factor. After everything is said and done, you got to know what you want. You have to feel driven to do it. Then, everything else will fall into place by itself. It's pretty awesome to finally fulfill this chapter in my life."
After graduating from SFSC this may with an associate's degree in computer information systems, Brown plans to complete his bachelor's and master's degrees in information systems management at Hodges University. The path may be long, as he said, but his passion for an education and a better life has remained constant.
SFSC's Spring Commencement ceremony will be held Thursday, May 7, 6:45 p.m., in the SFSC Theatre for the Performing Arts, Highlands Campus.