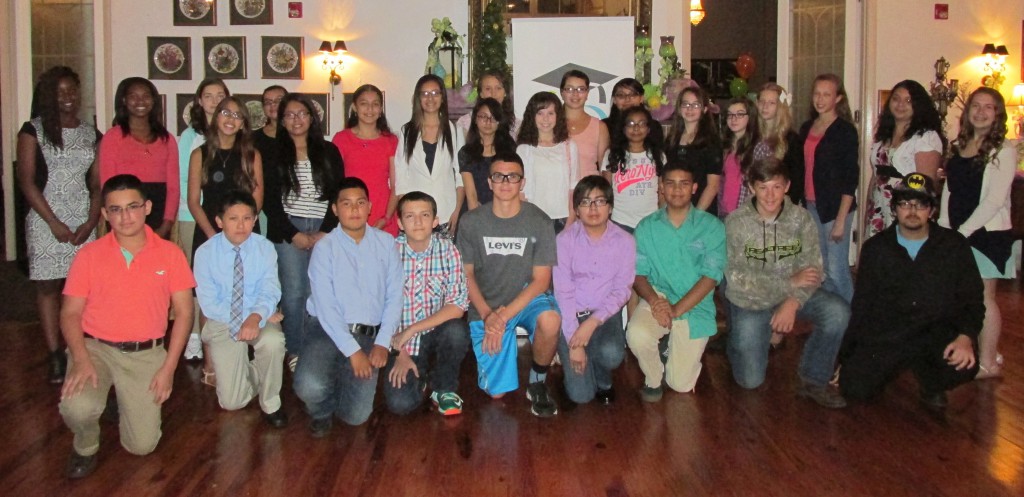 AVON PARK, Fla.–April 1, 2015–South Florida State College's (SFSC) Take Stock in Children (TSIC) program recently awarded 30 new scholarships to middle school and high school students in Highlands's County at a contract signing on March 31 at the Hotel Jacaranda, Avon Park.
Students who received scholarships were Jonathan Duran-Mendoza, Isabel Vargas, Loretta Walker, Prenyonna Sawyer, Javier Gomez-Badillo, Lysmary Silva, Erin Bonini, Elrad Nevers, Dezirea Knapp, Lizbeth Capote, Lexie Vaughn, Torrie Allen, Kiersten DeJesus, Destiny Rodriguez, Travis Hill, Lizbeth Martinez-Gonzalez, Sinthia Gomez, Yanely Mendez, Angel Guevara-Garcia, Roandy Garcia, Gabriela Merlo, Diego Garrido, Dillan Moon, Vanessa Lopez, Vianey Gonzalez, Jacob O'Neil, Nancy Zuniga, Ciera McCartney, Marilyn Lorino, and Jasmine Barajas.     
Take Stock in Children (TSIC) is a statewide program that provides at-risk children with a mentor and a college scholarship. In return, TSIC scholar's sign contracts in which they promise to remain drug-free, to avoid behavior that would get them into trouble with law enforcement, to attend school regularly, and to earn satisfactory grades. The students' parents also sign the contracts and agree to provide home environments conducive to education and to participate in.
"When we awarded these 43 scholarships throughout DeSoto, Hardee, and Highlands school districts, it was phenomenal," said Irene Castanon, TSIC program coordinator. "There were so many students, who were really nervous and excited at this year's contract signings. More importantly, their hope of going to college has now become a reality."
The SFSC Foundation, Inc. is the lead agency for TSIC within the college's service district of DeSoto, Hardee, and Highlands counties. The program has been in place for 20 years and has awarded scholarships to over 500 local students.
For information about Take Stock in Children, call Irene Castanon, program coordinator, at 863-453-3133 or visit http://www.southflorida.edu/giving/take-stock-children.