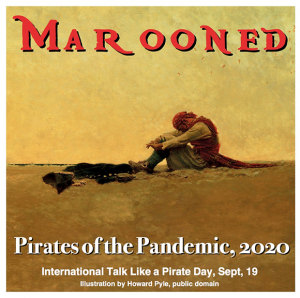 AVON PARK, Fla. – Sept. 4, 2020 – A pandemic won't keep the South Florida State College (SFSC) Library from celebrating International Talk Like a Pirate Day 2020. Although officially set for Saturday, Sept. 19, the Library will offer booty for ye brave enough to compose a pirate tale, test yer smarts with pirate trivia, and tell ye yer pirate name on Friday, Sept. 18, from 8 a.m. to 5 p.m.
International Talk Like a Pirate Day was started on a whim by John Baur and Mark Summers. The two men discovered that talking like stereotypical pirates during a poorly played game of racquetball made everything more fun. They decided to celebrate the holiday annually on Sept. 19. The holiday gained wider recognition when the Miami Herald's Dave Barry wrote about it in his column. Baur and Summers had emailed Barry and encouraged him to highlight the holiday that they had created. The column was published in 2002, and Talk Like a Pirate Day has been celebrated internationally ever since. For more about this fun celebration, go to http://talklikeapirate.com/wordpress/
SFSC Library's celebration will be held in the Learning Resources Center (Building Y), on the SFSC Highlands Campus in Avon Park. Costumes are welcome. However, please adhere to safety guidelines and wear a face mask and maintain social distancing when visiting.
For more information about SFSC Library's celebration, contact Lena Phelps, SFSC chair of library services, at PhelpsL@southflorida.edu or 863-784-7303.