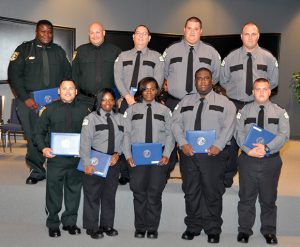 SFSC graduated 10 new corrections officers during the evening Basic Corrections, Class 18-195, ceremony at the SFSC University Center Auditorium on the Highlands Campus on Wednesday, April 18.
Michael Austin, coordinator at SFSC's Criminal Justice Academy, presented each graduate with their occupational certificate. Recipients were Joshua Almack, Shane B. Berini, Rupert C. Brown, Danielle T. Carter, Deckita R. Cowell, Eduardo Lebron, Dakota L. Linder, Robert Martinez, Nikola Pavlovski, and Kanisha Peterson.
Four students were singled out for their achievements during the 420 hours of instruction. Shane B. Berini earned top honors for academic excellence and Eduardo Lebron scored the firearms award for his work on the shooting range. Kanisha Peterson was lauded for her work as class executive officer and Danielle T. Carter was praised for stepping up to take on the demanding job as class leader. 
Speaker LaKisha Collins, senior correctional probation officer with the Florida Department of Corrections, addressed the graduates. "Each of you are now subject to constantly being viewed with a fine tooth comb," she said. "Never take action based on emotion. Remember, not all actions deserve a reaction. What you do will have lifelong consequences to the clients and inmates you deal with on a daily basis. Don't ever get complacent. This is an exciting career with many pitfalls and stumbling blocks. Learn what to avoid. Seek out motivated co-workers as mentors. You're class motto is: United, We are One," she said. "It defines each of you perfectly. Always be inquisitive, suspicious, and thorough."
In closing, Collins said to the graduates, "Take time to remember your family members. They were there for you before you started the academy, they were there by your side while you attended, and they're going to be there long after you put up your duty belts. Find time for your family."