AVON PARK, Fla. – March 12, 2021 – Two screenings of the Academy Award-nominated animated film, "The Breadwinner," will be held on Thursday, April 15 at 4:30 p.m. and Friday, April 16 at 7 p.m., at the Alan Jay Wildstein Center for the Performing Arts at South Florida State College (SFSC) in Avon Park. The screenings are free, but tickets are required due to social distancing.
"The Breadwinner," tells the story of an 11-year-old girl, Parvana, who lives in Kabul with her family under Taliban rule.  After the wrongful arrest of her father, Parvana cuts off her hair and dresses like a boy to support her family. Working alongside a friend, she soon discovers a new world of freedom and danger.
Based on the popular young adult novel by Deborah Ellis, the film confronts real-life issues with richly rewarding honesty that celebrates children and their strength. "Because the movie is frank about violence in Afghanistan, young children should stay home," said Cindy Garren, director of cultural programs at SFSC. "It's rated PG-13 and appropriate for older children."
Winner of the Cinema for Peace Awards and the Emilie Award for best animated film, it was directed by Nora Twomey and produced by Angelina Jolie. It has been nominated for 55 awards and has won 20 awards around the world. 
Tickets for "The Breadwinner" are free and available online at sfscARTS.org or by calling the SFSC Box Office at 863-784-7178. Prior to the screening, Dr. Keith Cavedo, SFSC professor, will discuss the art of animation and the techniques used in the beautifully crafted movie.  USF doctoral candidate, Parandoosh Sadeghinia, will help audiences understand the history, culture, and Taliban rule of Afghanistan.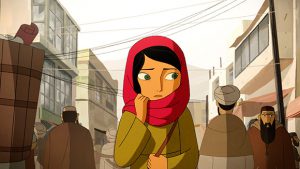 "This is a good opportunity to come see a show at the Alan Jay Wildstein Center for the Performing Arts," Garren said. "Easy parking, comfortable seats, and family entertainment is all free."
The film is one of four free performances, celebrating cultural diversity, which are funded by the National Endowment for the Arts and presented by SFSC Performing Arts. Rudram Dance Company, a classical Indian dance company, will perform Saturday, June 19 at 7 p.m. Free tickets are also available online for this performance at sfscARTS.org.
Face masks are required to be worn during performances.  All seats are socially distanced and the venue is sanitized and disinfected prior to performances.
The Alan Jay Wildstein Center for the Performing Arts is located on the campus of South Florida State College located at 600 West College Drive in Avon Park. Parking is free.