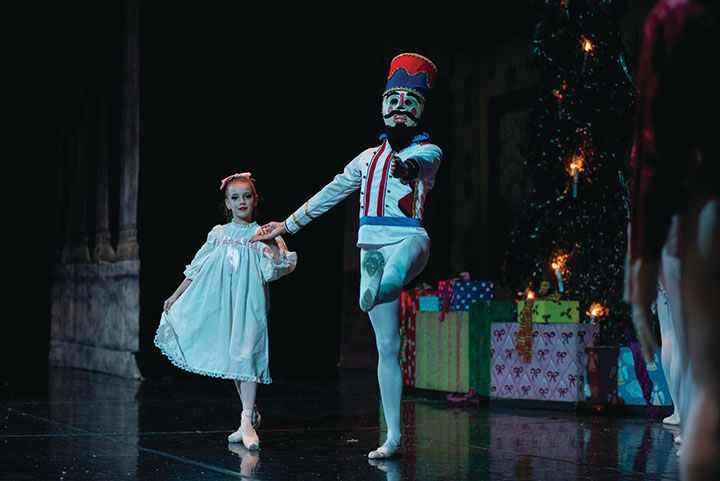 AVON PARK, Fla. – Nov. 18, 2022 – The Columbia City Ballet returns to South Florida State College (SFSC) with the holiday classic The Nutcracker on Sunday, Dec. 4, 3 p.m. in the 1,460-seat Alan Jay Wildstein Center for the Performing Arts on the Highlands Campus in Avon Park, Fla. 
The Nutcracker Ballet tells the story of young Clara who receives a magical nutcracker at a Christmas Eve party from her Uncle Drosselmeyer. In a scuffle with her brother, the Nutcracker is broken. Uncle Drosselmeyer repairs the nutcracker, the party guests depart, and Clara sleeps under the Christmas tree to protect her Nutcracker. As she sleeps, mice and their Rat Queen invade the parlor. The Nutcracker magically comes to life and battles the mice. As she is about to be defeated, Clara strikes the Rat Queen with her shoe, saving her Nutcracker, who then becomes a handsome prince. The prince takes Clara on a fantastic journey to the Land of Snow where they meet the Snow Queen. She then travels to the Land of the Sweets where she meets Mother Ginger, Spanish Hot Chocolate, Bon Bons, Candy Cane Twists, and the Sugar Plum Fairy.
"This is a gorgeous production with a magic Christmas tree, toys that come to life, and a joyous woodland snow scene," said Cindy Garren, director of SFSC Cultural Programs.  
Columbia City Ballet Executive Director William Starrett auditioned local children in October to perform a variety of roles with the professional company. Nancy McDuffee, a Sebring resident, is the local ballet mistress who has been rehearsing the young dancers since October. 
The local cast includes:

Mice: Sophia Schlosberg, Ariana Bhandare, Finley Grace Pleger, Addison Philmon, Emmy Bury, Alice Penfield, Gabriella Alvarez, Haygan Hazeltine, Olivia Kelsey, Audrey LeClair, Ariella Arceo, Shelby Seymour, Adeline LeClair, and Helena Muhammad
Cherubs: Sophia Schlosberg, Ariana Bhandare, Finley Grace Pleger, Addison Philmon, Emmy Bury, Adeline LeClair, Helena Babbitt, Ariella Arceo, Shelby Seymour, and Helena Muhammad
Gingerbread Girls: Aubrey Dumbleton, Olivia Kelsey, Haygan Hazeltine, Gabriella Alvarez, Alice Penfield, Marleigh Miller, Noelia Barajas, and Makenna Smith
Bon Bons: Bailey Toney (lead), Mila Meredith, Lincoln O'Donovan, Raelin Corcoran, Tenley Cole, Maci Duncan, Finley Ryan, Charlee Veale, Caroline Gillman, Adelyn Sheffield, Allison Wall, Carlee Shelton, and Piper Smith
Lead Angels: Taylor Leidel, Paige Jahna, Sofiya Balikowsky, and Sophia Shaffer
Archangels: Bailey Toney, Shayla Farrow, Camille Schwartz, McKenzie Pletcher, Annandra Ramkissoon, Zoe Pletcher, and Isabella Conklin
Angels: Goldie Gedeon and Sarah Smith
Gift Givers: Goldie Gedeon, Audrey LeClair, Everli Himrod, Cypress Albritton, and Savannah Somarriba
Cinnamon Twists: Bailey Toney, Taylor Leidel, Shayla Farrow, Sofiya Balikowsky, Sophia Shaffer, and Paige Jahna
Sugar Plum Fairy Attendants: Charlie Veale, Raelin Corcoran, Allison Wall, Lincoln O'Donovan, Maci Duncan, and Tenley Cole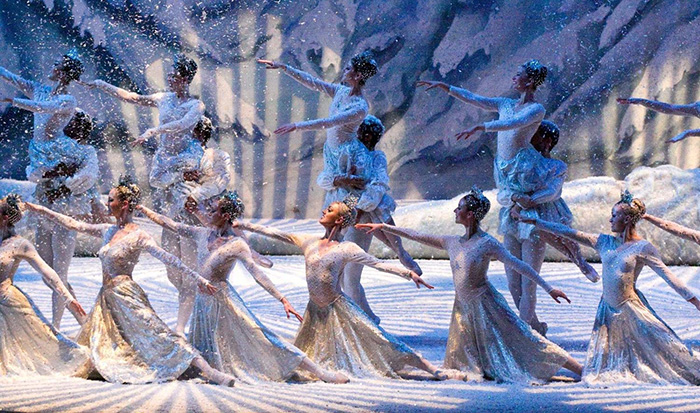 AdventHealth is the title sponsor of The Nutcracker. Series sponsors are Dawn Dell/Paradise Realty, Karlson Law Group, South Florida State College, and Kris and Mike Rider.  Performance sponsors are Dr. Catherine P. Cornelius and Friends of June McDuffee.

Tickets can be purchased online at sfscarts.org or by visiting the Wildstein Box Office on the Highlands Campus of SFSC, at 600 West College Drive in Avon Park. Tickets are $30, $35, and $40, and children and students receive a 50% discount. Groups of 12 or more receive a 20% discount plus one complimentary ticket. The Wildstein Center Box Office is open Monday – Friday, 11:30 a.m.-2:30 p.m. To contact the Wildstein Center Box Office, call 863-784-7178.
SFSC presents over 30 national and internationally touring artists at the Alan Jay Wildstein Center for the Performing Arts located on the Highlands Campus at 600 West College Drive in Avon Park. Upcoming performances include: "The Queen of Christmas" Darlene Love on Dec. 13; Phil Dirt and The Dozers on Jan. 3; The Manhattan Transfer on Jan. 10; A Salute to Glen Campbell on Jan. 17; and the Lviv National Philharmonic Orchestra of Ukraine on Jan. 19. For a complete schedule or to view performance videos, visit sfscARTS.org.