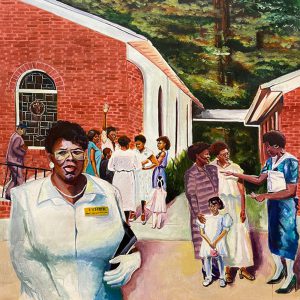 Avon Park, Fla. – Jan. 5, 2023 – "We Live on Old Dixie HWY Too" features recent paintings and installations by New College of Florida drawing instructor Marlon Tobias. Meet the artist and enjoy free refreshments at the artist reception for the exhibition on Wednesday, Jan. 11, from 12:30 to 2:30 p.m., at the Museum of Florida Art and Culture (MOFAC) on the South Florida State College Highlands Campus in Avon Park. The exhibition is on view through Friday, Feb. 10.
"Marlon Tobias is an artist with an archival practice," said Anthony Record, MOFAC curator. "He uses this incredible wealth of archival material that has been passed down to him from the maternal side of his family as the subject of his art. Things like family photos, letters, legal documents, even collected objects like silverware and achievement awards inform his paintings and are included in his installations." 
In the mid-1800s, Tobias' great-great-grandfather, Cubby Wardlaw, acquired land in Callahan, a small, rural town in Florida about 15 miles north of Jacksonville, and his family has established and maintained a community there.
"Tobias is working with a remarkable amount of Black history and Florida history that his family has been a part of and documented," Record said.
As African Americans in the mostly white town of Callahan, Tobias' family lived under the constant threat of being displaced by their white neighbors. Their meticulous record-keeping was a strategy for clearly establishing and documenting their history on the land, their legal ownership of property and wealth, and to control how these things were maintained and transferred to the next generation. They even used Robert's Rules of Order and would take meeting minutes for regular family meetings which have been saved.
"Tobias' paintings, installations, and collected objects tell stories that give us an intimate view of the people that played a pivotal role in the development of this community in Callahan," Record said. "Tobias says that every person's life is history, and his work allows us to meet these people from the past, to learn from that history and relate to how they lived, organized, and thrived."
Learn more about Marlon Tobias and see examples of his work by viewing this MOFAC-produced video.
MOFAC is located at 600 West College Drive, on the SFSC Highlands Campus, in Avon Park. For more information, call the Museum Office at 863-784-7130.