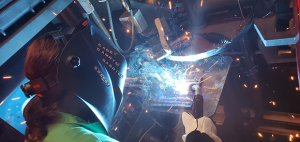 AVON PARK, Fla. – April 29, 2021 – Of the 11 students who recently graduated from South Florida State College's (SFSC) Principles and Practices of Welding program, 100% of the students passed the American Welding Society (AWS) Basic Welder Certification exam. SFSC has graduated two classes from the program. This is the second class to score a 100% pass rate on its certification exam. "The high pass rates are a testament to the quality of training our instructor, William Bluhm, provides," said Fred Hayes, Construction Trade Program coordinator.
"The AWS certification is not a requirement to get a job," Hayes said. "However, in the welding industry, it carries a lot of weight. This includes better wages and more opportunities that are afforded to those who hold the credential. This credential is also recognized nationwide."
Welders, as well as all construction trades, are in high demand at this time because the Baby Boomer generation is hitting retirement age at a massive rate. Welders are used in building construction, fabrication of machinery, manufacturing, plumbing, nuclear power plants, the marine industry, and more.
"Passing the AWS certification exam is a big accomplishment for the students," Hayes said. "It demonstrates to the student and the instructor that the time invested in training and the proficiencies and skills they have attained are worth the effort. It is a major confidence builder and adds to the possibility of gaining better employment."
Many of the graduates from the program have been offered jobs. Some came into the program already holding jobs as welders but wanted the training to acquire the AWS certification and better wages.
SFSC's Principals and Practices of Welding program was established in 2019 and is held at the SFSC DeSoto Campus in Arcadia. It meets on Tuesdays, Wednesdays, and Thursdays, 5:30-9:30 p.m. and on Saturdays, 8 a.m.-5 p.m. The next class runs from Sept. 7, 2021 through May 7, 2022. For more information about the program, see the College's Advanced Manufacturing and Industrial Trades class catalog at southflorida.edu/wp-content/uploads/2018/09/Industrial-Trade-1.pdf. To register for the program, call 863-784-7405 before the deadline of Friday, Aug. 6, 2021. For scholarship opportunities, call 863-201-7195.