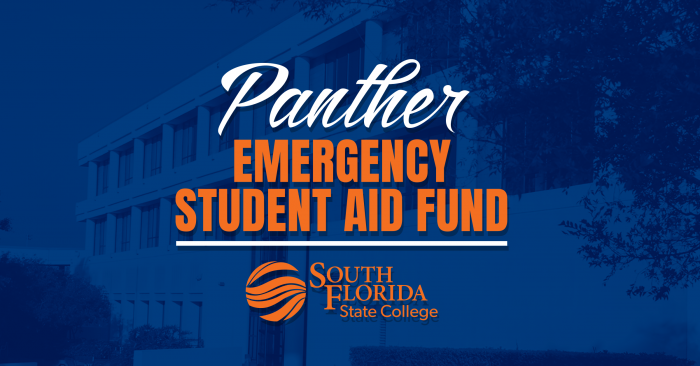 Your health and safety are South Florida State College's top priority and we know that many of you are making the best of a very difficult situation. We want you to know that we are thinking of you and we will get through this time together.
Many students have had their academic and personal lives disrupted by the COVID-19 virus. Federal funding was granted to get support to those most in need as quickly as possible and that starts with college students whose lives have been disrupted, with many facing financial challenges and struggling to make ends meet.
In response, SFSC, with the support of the federal government, has developed the PANTHER EMERGENCY STUDENT AID FUND to help with immediate financial needs.
To assist with your continued success, all Student Services contact information can be found at southflorida.edu/studentservices and offices, with CDC guidelines in place, are open to serve you. We also have a Remote Engagement Team who are reaching out to all SFSC students individually and are ready to answer your questions.
South Florida State College is committed to your continued academic success and we post updates to the website and to our social media platforms whenever possible so you can stay informed and successful during COVID-19. Keep up-to-date on College developments at southflorida.edu and by paying close attention to your SFSC email for updates and real-time information. We have been committed to serving our students, even in the most challenging of times. Our hearts go out to everyone who has been impacted by this global crisis. We are here for you. Please direct your questions to the Office of Financial Aid at Finaid@southflorida.edu, 863-784-7134, or visit the Dr. Catherine P. Cornelius Student Services and Classroom Complex (Building B).