Fourth Annual Million Dollar Hole-in-One Golf Shootout
Jan. 13-16, 2022, Sun 'N Lake Golf Club
Final Results, Saturday, Jan. 15 (date change due to weather)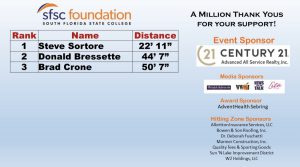 Day 3 Results, Saturday, Jan. 15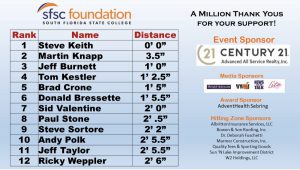 Day 2 Results, Friday, Jan. 14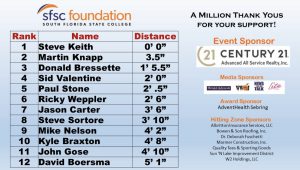 Day 1 Results, Thursday, Jan. 13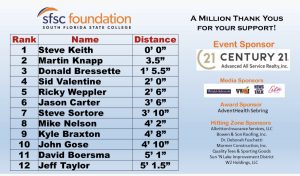 Head out to the driving range at Sun 'N Lake Golf Club and aim for closest to pin on Thursday, Friday, or Saturday. The top 12 closest to pin, our leaderboard, will be asked to come back and try their best to swing for a hole-in-one on Sunday on the 18th hole of Deer Run at Sun 'N Lake Golf Club. Hit the hole-in-one and you win $1,000,000.
All golfers are welcome. The cost is $10 for a bag of 10 balls and you can purchase an unlimited number of bags. If you qualify on the leaderboard, then get bumped off, you can come back and battle your way back on the leaderboard all the way until close of qualifying rounds on Saturday the Jan. 15 at 5:30 p.m. We thank you for your support, this event benefits SFSC Athletics.
Qualifying Rounds at the Driving Range
Thursday and Friday, Jan. 13-14 at 11:30 a.m. to 5:30 p.m.
Saturday, Jan. 15 at 7:30 a.m. to 5:30 p.m.
Shootout at the 18th Hole
Sunday, Jan. 16 at 9 a.m.
Sponsorship opportunities available, please contact the SFSC Foundation at 863-453-3133 for more information.
Click Here for Past Results