March 3, 2020 – South Florida State College (SFSC) has been designated as a Military Friendly® School by VIQTORY, a service-disabled, veteran-owned business that issues the longest-running, most comprehensive review of college and university services provided to military and veteran students.
Each year, VIQTORY establishes the list of Military Friendly® Schools from the results of public research and the data-driven survey that is submitted by each institution. This year, 1,693 schools filled out the survey and each school was ranked according to the data that was collected.
"South Florida State College takes a serious commitment to providing top quality services to our active duty military students as well as our veterans," said Dr. Timothy Wise, SFSC's dean of student services. "We are proud to once again be recognized for our commitment to them."
SFSC provide veterans with academic advising and counseling for all programs and degrees. Veterans are able to sign up for courses the first day of registration regardless of how many hours they have earned. The Cashier's Office offers veterans and/or their dependents utilizing VA benefits a deferment for tuition fees. The Cashier's Office grants veterans a 60-day deferment from the time classes start to pay their fees. This allows veterans to enroll into courses without having to pay up front.
"Being prior military myself and knowing that our institution is Military Friendly®, it really makes me proud," said Robert Hampton, SFSC student services advisor and veteran school certifying official.
As part of the College's outreach to veterans, SFSC accepts a variety of educational benefits provided by the Department of Veteran Affairs. Those benefits range from the Post-9/11 GI Bill, which provides financial support for education to individuals who have at least 90 days of aggregate service after Sept. 10, 2001, to Vocational Rehabilitation and Employment program Chapter 31 for veterans who suffered a service-connected disability that limits their ability to work or prevents them from working.
Along with providing educational opportunities, the College also offers interactive tools to assist them with career planning, counseling, and job placement efforts at the Career Development Center.
The SFSC Testing Center is recognized as an "open" military friendly testing center by the United States Department of Defense which regulates most military educational assistance programs. The College-Level Examination Program (CLEP) lets students earn college credit for what they already know by earning qualifying scores on any of 33 introductory-level college subject examinations.
The exams are funded by the United States government through the Defense Activity for Non Traditional Education Support (DANTES). Through this program, eligible DANTES-funded test takers attempting a test title for the first time will not only have their exam fee funded by DANTES, but the SFSC Testing Center will also waive their administrative fee for veterans and active military, with proper ID.
The College is committed to helping the military-affiliated students feel welcome on campus, to make sure they have access to the educational benefits to which they are entitled, and to make sure their college experience is rewarding and productive. To assist with any deployment and training issues, any military student called to active service can interrupt education and return without penalty.
For more information about SFSC's veteran services, contact Hampton at 863-784-7128 or email robert.hampton@southflorida.edu.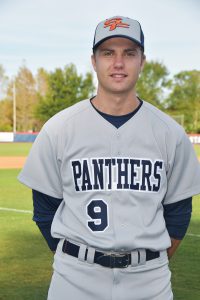 AVON PARK, Fla. – May 20, 2019 – South Florida State College (SFSC) baseball player P.J. Cimo was named the 2019 Suncoast Conference Male Student Athlete of the Year by the Suncoast Conference athletic directors and sport chairs at their meeting on Friday, May 17. Cimo is the sophomore co-captain of the SFSC Panthers and his leadership on and off the field earned him this recognition.
"Without question, one of the finest young men I have ever had the pleasure to coach. Congratulations to P.J. and his family for this honor; it is well deserved," said Rick Hitt, head baseball coach and athletic director at SFSC.
Cimo earned a 4.0 GPA during his two years on the SFSC Panther baseball team. He was named First Team All-Conference in 2019 and FCSAA All-Conference, All-State, and NJCAA All-American in 2018. Cimo was on the SFSC President's List all four terms and a member of the Tau Epsilon chapter of the Phi Theta Kappa academic honor society. He also participated in several department- and team-sponsored community service projects while at SFSC. Cimo is currently undecided on his future four-year school of choice.
For more information about athletics at SFSC, visit southflorida.edu or contact Rick Hitt at 863-784-7036 or Richard.Hitt@southflorida.edu.
ABOUT SOUTH FLORIDA STATE COLLEGE
SFSC is a comprehensive, open-access, higher education institution dedicated to providing a student-centered environment focused on learning and personal enrichment through quality programs and services. At its campuses in DeSoto, Hardee, and Highlands counties and through its online presence, the College offers certificates, associate degrees, and bachelor's degrees that lead to the continued success of its graduates and a variety of opportunities for the educational, cultural, and economic advancement of the service district. SFSC is one of the 28 institutions of the Florida College System.
Hurricane Michael Update – Tuesday, Oct. 9, 2018
Hurricane Michael is predicted to become a major hurricane with landfall expected in the Florida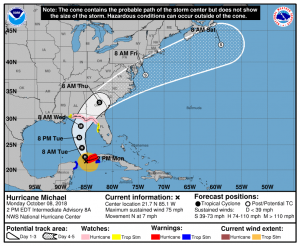 Panhandle on Wednesday afternoon. 
The impact to our immediate area should be minimal with only rain and periodic wind gusts of 20-25 mph. 
At this point, the College plans to remain open at all locations. Any changes will be sent to the entire SFSC community through the Emergency Text Notification System and posted to southflorida.edu.