AVON PARK, Fla.–Jan. 28, 2015–South Florida State College (SFSC) now offers the only nationally accredited emergency medical services (EMS) program in its service district of Highlands, Hardee, and DeSoto counties. The program received initial accreditation through Jan. 31, 2020 from the largest programmatic accreditor in the health sciences field, the Commission on Accreditation of Allied Health Education Programs (CAAHEP).
CAAHEP accreditation is a mark of distinction, certifying that an EMS program adheres to the highest national standards of education. Notification of SFSC's EMS program accreditation came to Dr. Thomas Leitzel, SFSC president, on Jan. 16 in a letter from CAAHEP President Dr. Thomas Skalko, congratulating SFSC on its achievement and commitment to continuous quality improvement in education.
SFSC's site visit report listed no deficiencies and 100 percent compliance with CAAHEP standards and minimum outcomes thresholds. CoA EMSP will regularly monitor the program's compliance with the outcomes assessment threshold through the program's annual report as well as other documentation that may be requested.
To be accredited, programs must meet a set of nationally established standards and undergo an intensive process that includes a peer review and on-site visitations conducted by the Committee on Accreditation of Educational Programs for the Emergency Medical Services Professions (CoA EMSP) and CAAHEP's board of directors.
Those standards encompass not only faculty but also administration, resources, facilities, equipment, progress and competency, and clinical partnerships related to the accredited program.
To become a certified paramedic in Florida, students must attend an accredited program and pass the state of Florida Paramedic certification examination.  Graduates are also eligible to take the National Registry of Emergency Medical Technician (NREMT) Paramedic Skills Examination and Computer Based Test (CBT). While awaiting the full accreditation, graduates of the SFSC's EMS program have been eligible to take these exams thanks to a Letter of Review from CAAHEP.
As a result, students who graduate from CAAHEP-accredited institutions are more readily accepted into other advanced degree EMS programs and have broader employment opportunities—nationally and internationally. 
 "Even though SFSC's paramedic program has provided quality education for more than 10 years, CAAHEP accreditation validates the excellence of our program," said Steve Ashworth, chair of SFSC's EMS and Fire Science programs. "National accreditation is the benchmark for all paramedic programs in the nation."
SFSC offers a two-year generic Associate in Applied Science (A.A.S.) degree in Emergency Medical Services program, an Emergency Medical Technician Advanced Technical Diploma, and an 11-month paramedic college credit certificate. The curriculum provides students with classroom, lab, field, and clinical experiences in a variety of emergency care environments and facilities.
These EMS programs are among several Allied Health programs offered by SFSC that includes dental hygiene, dental assisting, radiography, paramedic, and emergency medical technician.
CAAHEP is responsible for the specialized accreditation of EMS education programs, both postsecondary and higher degree, which offer a certificate, a diploma, or a recognized professional degree (clinical doctorate, master's/post-master's certificate, baccalaureate, associate, diploma, and practical). In collaboration with its Committees on Accreditation, CAAHEP reviews and accredits more than 2,000 educational programs in 24 health science professions.
For more about CAAHEP, visit caahep.org. For more information on SFSC's EMS program, contact Steve Ashworth at 863-784-7272 or visit southflorida.edu/academic/apsci/emergency/.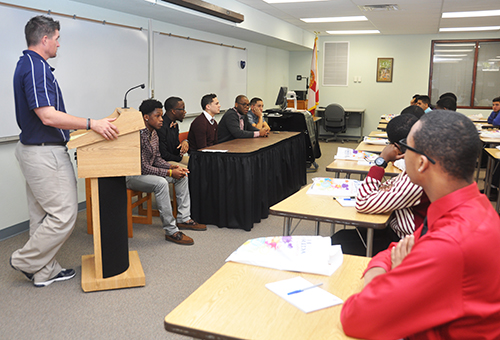 AVON PARK, Fla.–Jan. 23, 2015–Over 36 male students from Avon Park High School visited South Florida State College's (SFSC) Highlands Campus on Jan. 22 for the first College Bound Male Initiative. The event, for high school males in SFSC's district of DeSoto, Hardee, and Highlands counties, was recently created to provide comprehensive programs, services, and encouragement to young men that will prepare them for admission into and graduation from institutions of higher education.
"When I realized we had a crisis in our community of young men not pursuing higher education and dropping out, I had to do something," said Eddie Cuencas, coordinator of SFSC's Panther Youth Program. "With the help of Andy Polk, student life coordinator and assistant baseball coach, and Rob Hampton, veterans' services advisor, we developed the College Bound Male Initiative. This event was a first step in providing these local young men the skills, support, and foundation they need to succeed in higher education."
College Bound Male Initiative featured several guest speakers including Andy Polk who explained why male students should go to college; Rob Hampton, who discussed the process for applying to college; and keynote speaker, Rick Hitt, SFSC athletic director and head baseball coach, who spoke on the road ahead.
The event featured a student panel of graduates from SFSC's district high schools who spoke about their challenges and how they overcame those with the support of family, college staff and faculty, and resources available at SFSC. Those resources are the TRIO program, Panther Youth Program, CROP program, and campus student activities. The SFSC student panel included Ricky Sherrill, Greg Rawlings, Jose Torres, Alfred Brown, and Rashaud Williams.
SFSC is already preparing for its next College Bound Male Initiative to take place in early March. The college hopes to have high school males from all high schools in SFSC's district in attendance.
For more information, contact Eddie Cuencas, Panther Youth Program coordinator, at 863-784-7161 or email Eddie.Cuencas@southflorida.edu.
AVON PARK, Fla.–Jan. 12, 2015–The South Florida State College (SFSC) Foundation, Inc. received a $50,000 donation as a capital campaign kickoff recently at the Greater Sebring Chamber of Commerce luncheon from the Drs. V & T Thakkar Foundation, Inc.   
In conjunction with the college's year-long 50th anniversary celebration, a new initiative is underway to raise funds for the purpose of positioning the college to face the unknown challenges of the next half century. The $50,000 kickoff donation is just the beginning of a statewide effort to create a $10 million endowment fund intended to support technological advances in the coming years. "Drs. Vinod and Tarlika Thakkar have a long standing relationship with our college and for many years have been generous in supporting Nursing Education and other projects," said Don Appelquist, executive director of the SFSC Foundation, Inc. "This lead gift, to initiate the Endowment Campaign, is just another example of the extraordinary philanthropic spirit of these wonderful friends of our college. We believe that this kind of lead gift will set the tone for our campaign and allow us to better address the future educational needs of our community."
Launched this month, the $10 million capitalcampaign, named the "Partnership Project" is the largest fundraising effort in the 50-year history of the college. All gifts to the foundation's capital campaign are tax-deductible to the full extent allowed by law and pledges can be paid over as much as five years.  
Founded in 1965, SFSC is a public, two-year college that provides a wide range of educational opportunities at campuses in DeSoto, Hardee, and Highlands counties. The SFSC Foundation was established in 1984 as a non-profit educational trust to provide expanded resources for the college's growth and development. The foundation enhances the community's awareness of the college, encourages, solicits and accepts gifts, receives bequests, and accounts for and manages cash and non-cash gifts donated to the foundation. To learn more, visit http://support.southflorida.edu/pages/cm/foundation.
For more information about donation opportunities or SFSC's capital campaign, please contact Appelquist at 863-784-7181 or Donald.Appelquist@southflorida.edu.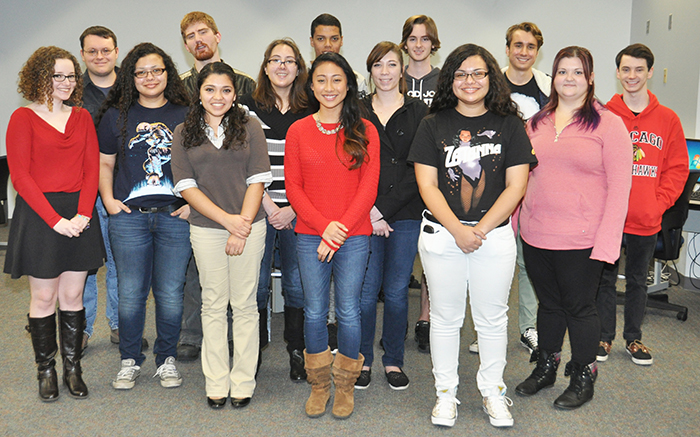 Students receiving the Edward K. Roberts Book Scholarship this spring were, left to right, Araceli Diaz, Mariana Becker, and Heather Oyola. Second Row: Alexis Drzewucki, Katherine Oyola, Nicole Darder, Christina Gourley, and Victoria Warren. Third row: Christian Reitnauer, Patrick Swafford, James Pinkney, Gary Gergen, Mathew Estima, and Tyler Whalen. Not pictured are Breighly Bolton, Hannah Cribbs, Isabela Gonzalez, and Stella Enchautegui.
AVON PARK, Fla.–Jan. 9, 2015–Twenty students in South Florida State College's (SFSC) Honors Program were recently awarded the Edward K. Roberts Book Scholarship to assist with purchasing textbooks.
Students receiving the Edward K. Roberts Book Scholarship this spring included Tyler Akins, Mariana Becker, Nicole Darder, Alexis Drzewucki, Matt Estima, Gary Gergen, Christina Gourley, Harrison Havery, Katelynne Leman, Stella Maldonado, Araceli Marquez, Heather Oyola, Katherine Oyola, Keysha Pecor, James Pinkney, Christian Reitnauer, Christopher Robbins, Ieshia Spencer, Patrick Swafford, and Tori Warren.
The merit-based scholarship awards $500, $250 in fall and spring terms to each student admitted to and in good standing with SFSC's Honors Program. Any student receiving the scholarship must also be enrolled in at least one Honors course during the academic term in which the scholarship is received. Returning students must achieve a 3.30 cumulative college grade point average (GPA) and continue to make satisfactory progress toward the Honors Program Associate in Arts (A.A.) degree.
SFSC's Honor Program offers students intellectual development, cultural enrichment, smaller classes, scholarship opportunities, and special recognition at the graduation ceremony as well as an Honors endorsement on their Associate in Arts degree and transcript.
For more information about SFSC's Honors Program, contact Dr. Charlotte Pressler, director, SFSC Honors Program, and professor, English and Humanities, at 863-784-7247.
AVON PARK, Fla.–Jan. 9, 2015–South Florida State College marked the end of 2014 with its first fall term Commencement, Dec. 18, in the SFSC Theatre for the Performing Arts on the Highlands Campus. SFSC faculty, staff, administrators, trustees, and families of new graduates came together to celebrate the students' accomplishments and encourage them in their future endeavors.
The student Commencement speaker opened her presentation with a lighthearted request:  "My name's April Jones, and don't forget it. As a political science major, I'll be running for office someday, and I'll need your vote."
Jones, a resident of Frostproof, who graduates with an Associate in Arts degree with honors, has big dreams. She plans to continue her studies in political science at Florida State University.
"Dreams play a significant role in our lives and inspire us to leave a remarkable legacy for others to follow," she said to graduating students. "I want each and every one of you to know that dreams can become a reality, and it only gets better as you pursue that aspiration."
"The key to unlocking closed doors that you will encounter is by having a vision," Jones said. "Know where you are headed. Think positively about your vision."
She went on to reveal that in first grade it was discovered she had a learning disability—short-term memory loss and mathematical disorder. Jones credits her mother for the emotional support she provided: "Do not let your disability define you. The disability is part of you. You define yourself." Jones later graduated from Frostproof High School with high honors.
In her sophomore year at SFSC, Jones was inspired by Dr. Marcy Everest, professor of political science, who "encouraged us to pursue our dreams, even when others tell us 'no' for whatever reason it may be."
"It is highly important that we, the dreamers, believe in ourselves and the aspirations we want to turn into reality," she said. "Since you are the author of your own story, you must envision success. But please, remember to vote for April Jones."
While a student at SFSC, Jones was conferred a Phi Theta Kappa (PTK) Enhanced Membership for going well beyond the scholastic requirements to enter PTK and exceeding 15 hours of community service within an academic term. She served as president of the Honors Ambassadors, was secretary of the Campus Christian Club, and was a member of Rotaract, the African American Association, and the College Democrats.
Earlier in the Commencement program, graduates received congratulations and words of wisdom from Dr. Thomas Leitzel, SFSC president:  "An education is a precious possession. The world is in envy of the diploma you receive tonight. While you earned it, consider it…a precious gift. And in this season of giving, here's my charge to you:  Give it back. What I mean is, give of your time and your acquired knowledge to build a better community. Be kind to everyone, and reflect proudly on your accomplishment and South Florida State College."
More than 130 students met SFSC graduation requirements by Commencement. Of these, 72 received their associate degrees, 40 occupational or college credit certificates, and eight are graduates of the SFSC Adult Education program. Ten students earned their Bachelor of applied Science in Supervision and Management degree from SFSC. Participating in Commencement were 85 students.
Dr. Charlotte Pressler, director of SFSC's Honors Program, recognized two Honors Program graduates for academic excellence, outstanding leadership, and strong citizenship. They are Donald M. Fry and April D. Jones.
Faculty and staff selected to serve as marshals were Thomas Bush, Dr. Ellen Cover, Bob Sconyers, Kathleen Cappo, Lena Phelps, Dr. Theresa James, and Davida Austin. Steven Ashworth, SFSC Faculty Council president, was macebearer. Members of the SFSC District Board of Trustees in attendance were chair Ken Lambert, vice chair Kris Rider, Timothy Backer, Tami Cullens, Derren Bryan, Dr. Louis Kirschner, Lana Puckorius, and Joe Wright.
Distinguished guests were John Scherlacher, president, SFSC Alumni Association; Christy Crews, chair, SFSC Foundation Board of Directors; Dr. Catherine P. Cornelius, SFSC president emerita; Dr. Norman L. Stephens Jr., SFSC president emeritus; and Pamela Karlson, college attorney.