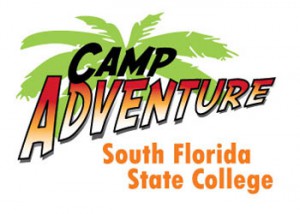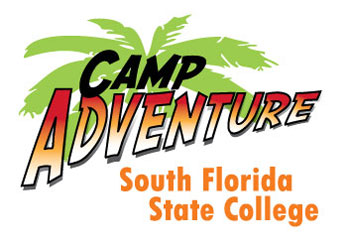 AVON PARK, Fla. – May 2, 2019 – Young explorers who have completed kindergarten through grade five can discover a world of fun and educational activities at South Florida State College's (SFSC) Camp Adventure 2019.
Camp activities teach children about the world through supervised activities and games, and includes swimming in the mornings with gym in the afternoon. The annual summer camp will be in session June 10-July 26 at the SFSC Highlands Campus in Avon Park. Children can attend all six weeks or any week of their choice. There will be no camp the week of July 4.
The cost to attend weekly sessions, Monday through Friday, is between $162-172 per week and includes breakfast and lunch. Camp sessions run 8 a.m.-5 p.m. each day, with early drop-off beginning at 7:30 a.m. and pick-ups continuing through 5:30 p.m.
Campers are accepted on a first-come, first-served basis. For further information and an application, call 784-7032 or visit Camp Adventure. All staff are certified in CPR and first aid. Lead counselors have academic degrees.
During the first week, June 10-14, "Campin' In" at Camp Adventure will be fun times with camp tales, tin can grills, and s'mores. On Friday, the SFSC Panther Gym will become our private campsite with everything from camp food, tents, snacks, and a movie.
During Week 2, June 17-21, "Innovation Station," will inspire and engaged curious minds through STEM (science, technology, engineering and mathematics) learning. Explore the science of magic, discover the mysteries of chemistry, and more. Guest magician, Nelson Pacheco, will join us.
In Week 3, "Imaginarium," June 24-28, bring your creativity as we let our imaginations soar. Campers will enjoy basic painting, beading and assemblage. Each day, campers will use different materials and techniques to create artistic projects that stimulate the imagination. Art show and auction on Thursday for friends, family and everyone. All auction donations go toward a field trip to 2finity.
During Week 4, "Classic Wheels and Railroad," July 8-12, get close up to vehicles and compare the differences between yesterday's models and today's. Race your friend in your DIY car for the chance to place on the leader board. On Friday, we share a first for Camp Adventure as we take an Amtrak ride to Winter Haven and enjoy lunch at a local park.
In Week 5, "Hakuna Matata Week," July 15-19, we honor the original "Lion King" movie and celebrate its 25th anniversary with games, acting, luau party, and more. Our field trip will be to the movie theater to see Disney's "The Lion King."
Week 6, July 22-26, is "50 Hours of Camp Adventure" is the last camp week of that year and that means silly games and even sillier clothes and hair. Campers challenge counselors in games, dress up and karaoke. You won't want to miss this Friday, because we're bringing back the Glow Party—music, black lights, and glow-in-the-dark everything. Everyone will enjoy our traditional sundae bar and pizza party.