Welcome to the  South Florida State College (SFSC) Testing and Assessment Center. The center provides testing services for SFSC students and faculty, as well as other educational institutions and community members. The center is a member of the National College Testing Association (NCTA), and the Florida Association of College Test Administrators (FACTA).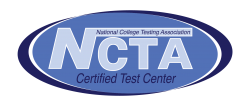 The mission of the SFSC Testing and Assessment Center is to provide comprehensive, quality testing and assessment services to students, candidates, faculty, staff, the community, and business partners. The center upholds the College's vision of enriching our communities through education, one life at a time. We strive to fulfill this mission by offering a variety of testing options to assist individuals in their quest for academic and professional fulfillment, while adhering to the National College Testing Association Professional Standards and Guidelines. We believe in the worth of each of our students and we seek to develop human potential and to create brighter futures.
Call or visit the center for testing information or to schedule an appointment for a test. All tests are given by appointment only, and requires 24 hours advanced notice.
To take an exam at the SFSC Testing and Assessment Center, a valid photo ID is required; ID requirements do vary depending on the type of test. When you schedule your test, be sure to inquire about the acceptable forms of ID for your particular exam. If you do not present a valid and acceptable photo ID on test day, you will be asked to reschedule your exam for a time when you can produce a valid and acceptable ID. All electronic devices and personal items are prohibited while in the center and will be stored in a secure locker prior to and during testing.
If you have a disability and need accommodations to take your test, contact the college's disabilities specialist before your testing appointment. 
Testing candidates are the only ones allowed in the Testing Center; this includes children and guests of the testing candidate. Children are not allowed to be unattended outside of the Testing Center or any other area of the college during testing.
---
The types of tests given and testing times vary at each SFSC location. Contact your desired testing location to determine its hours. You are required to schedule your exam at least 24 hours in advance.
---