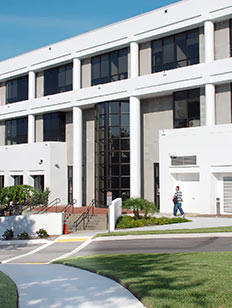 Transcripts
View Unofficial Transcripts
Current students may view unofficial transcripts in Panther Central.
Former students may view unofficial transcripts at Florida Shines. Click on "Get a transcript of the courses you've taken," and follow the instructions. You will need to provide your SFSC GID (X-number) and six-digit birthdate.
Please call the SFSC Admissions Office at 863-784-7105 if you experience any challenges navigating this website.
Order a South Florida State College Official Transcript

Transcripts are processed through the National Student Clearinghouse.  The link is also available through Panther Central on the "Student" tab.
Policies
SFSC maintains an academic transcript for each student enrolled both high school and post-secondary. This transcript delineates each course completed by the student. The courses are delineated by the course prefix and title assigned pursuant to s.229.551(1)(f). SFSC makes a copy of a student's transcript available to any student who requests such copy.
Any student who transfers to SFSC from a postsecondary institution may be awarded credit if the courses are judged by the appropriate common course designation and numbering system faculty task force representing SFSC to be academically equivalent to courses offered at SFSC, including equivalency of faculty credentials, regardless of the public or nonpublic control of the institution. Credits awarded pursuant to this policy satisfy institutional requirements on the same basis as credits awarded to native students.
Procedures
Transfer Students:
Degree-seeking students must have an official transcript sent from each institution of higher education to the SFSC Admissions Office prior to advisement/registration for their first term at SFSC. An evaluation of credit course transferability is made soon after a student is admitted to SFSC and the official transcript is received.
Placement test scores within the last two years are required, unless the student has completed a college-level English and/or math course prior to entry to SFSC.
The following criteria will apply when relevant:
Students admitted in good standing and students admitted on probation will receive credit for freshman and sophomore level courses in which a student has made a grade of D or higher at another college or university, except for courses used as Gordon Rule courses, provided the courses are relevant to the instructional program of SFSC.

All transfer students admitted on probation who fail to earn a 2.0 GPA on work attempted during their first term at SFSC will be subject to suspension.
Foreign Evaluation
SFSC considers evaluation reports of foreign transcripts from any member of the National Association of Credential Evaluation Services and/or the Association of International Credential Evaluators, Inc. Below are examples of agencies that are members of one or both of these organizations. A complete list of members can be obtained by visiting their respective websites. SFSC does not endorse any particular agency. This information is provided only as a possible source. If you have another agency you would like to use to evaluate your transcript, please contact the Registrar's Office for further information.
     Academic Credentials Evaluation Institute, Inc.
     9461 Charleville Boulevard, Box 188
     Beverly Hills, CA  90212
     Phone: 310-275-3530
     Fax: 310-275-3528
     acei@acei1.com
     www.acei1.com
Josef Silny & Associates, Inc.
International Education Consultants
7101 SW 102 Avenue
Miami, FL 33173
Phone: 305-273-1616
Fax: 305-273-1338
Translation Fax: 305-273-1984
info@jsilny.com
www.jsilny.com
Lisano International
P.O. Box 407
Auburn, AL 36831-0425
Phone: 334-745-0425
www.lisano-intl.com
World Education Services
Bowling Green Station
P.O. Box 5087
New York, NY 10274-5087
Phone: 212-966-6311
Fax: 212-739-6100
www.wes.org
---
Records Policies
The privacy and confidentiality of all student education records are preserved in accordance with Florida Educational Rights and Privacy Act (FERPA) and Florida Statute 1002.22.
The Records Department updates, maintains, and proofs SFSC transcripts so that they are complete and accurate.
Rule 6A-10.030(2) as adopted by the Florida State Board of Education, requires the achievement of college-level communication and computation skills through completion of course work in English and mathematics. Students must complete with a grade of C or higher to meet certain Gordon Rule course requirements.
SFSC is responsible for verifying that a particular course taken via Distance Learning meets the minimum number of words of writing requirement in communications. Verification documentation will be maintained by the department chair and kept on file in the student's records.
Review the complete list of student's rights (PDF).